R23-million Tsomo centre unfinished after seven years
Building was intended to make life easier for residents of the small Eastern Cape town
18 August 2022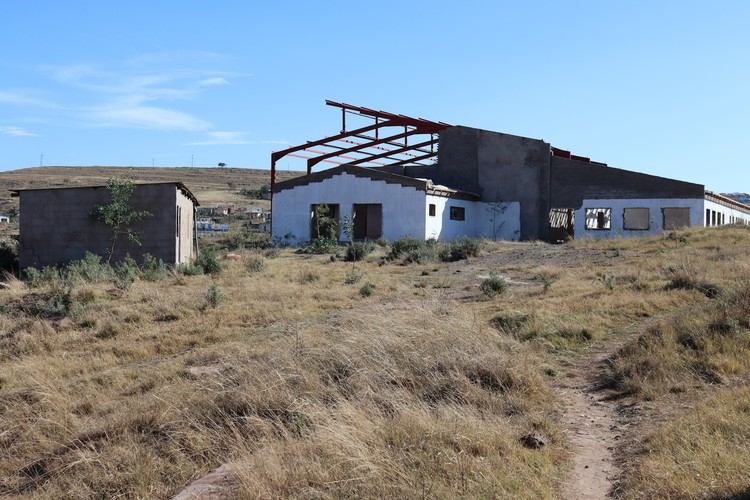 Seven years after building started, the R23-million Tsomo-Ntsongeni Multipurpose Centre in the Eastern Cape has still not been finished.
According to the spokesperson for the Eastern Cape Department of Human Settlements Yanga Funani, the contract involved a 400 seat hall, a stage, offices for the departments of Home Affairs, Health and Social Development and the SA Social Security Agency, a kitchen, ablution blocks and sports fields.
He said the project started in January 2015 and was to have been finished in September that year. "But progress was very slow to a point of stagnation," said Funani. The contract was terminated in October and a new contractor appointed, but the new contractor had also failed to deliver.
He did not give further details.
When GroundUp visited the building, we found there were no doors, windows or roofing. The toilets had not been finished, but people were using the walls to relieve themselves. There were cracks on one wall. GroundUp was warned that the building is used by criminals who smoke drugs.
Tsomo is a very small town. For services such as Social Development offices, SASSA, Home Affairs, residents have to go to bigger towns like Cofimvaba, Queenstown, Ngqamakhwe or Butterworth. Resident Philiswa Ntsebeza said she had been looking forward to having facilities in Tsomo.
"What we didn't know was that government was building a place for criminals to hide," said Ntsebeza.
"No one is telling us anything about why the building is left unfinished, it's more than seven years now. To be honest we have lost hope that it will ever be finished," she said.
Nkosinathi Mhlambiso, chairperson of Intsika Yethu Business Chamber and Business Forum said the forum had tried unsuccessfully to find out what had happened to the building.
"After the first contractor left we engaged the second contractor asking them about the facility and why it was not finished. The contractor told us that there's no budget, so we left it like that," he said.
Funani said a new tender had been issued and adjudicated in June 2022.
"The project is budgeted for and planned for 2022-23 and to be handed over to Intsika Yethu Local Municipality early 2023," he said. The remaining budget was R11.7-million and additional funding of R5.7-million had been approved, he said. He did not say why the appointment of a new contractor had taken so long.