Quarrel over Sarah Baartman sculpture at UCT
Librarian removes covering that students had placed over Willie Bester's artwork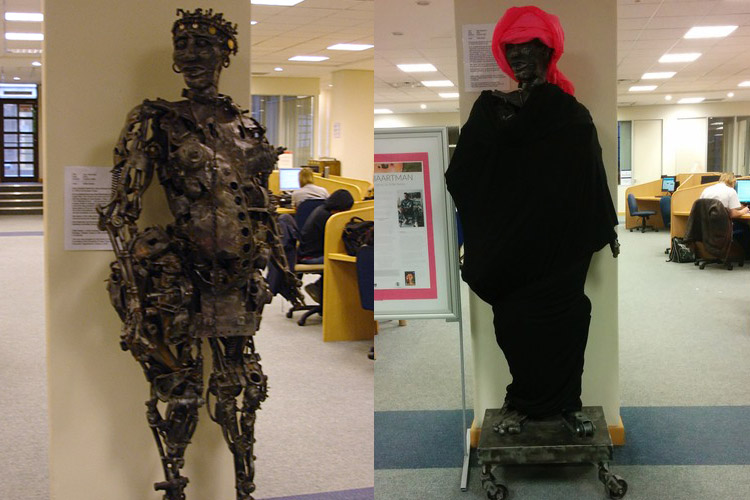 2 March 2018
The decision by a UCT librarian to uncover the sculpture of Sarah Baartman at the university's main library at the end of last year has sparked a row.
The sculpture, by Willie Bester, had been covered up since March 2016, when student protesters wrapped it in cloth. William Daniels, then a senior UCT librarian, has taken responsibility for uncovering the sculpture.
Academics inside and outside UCT, and artists, including Bester himself, have praised the uncovering. But some members of the UCT community have publicly denounced Daniels.
Bester wrote to Daniels, thanking him, after finding out his sculpture had been uncovered. Bester has previously spoken to GroundUp about art censorship, and about the censorship of his Sarah Baartman sculpture, in particular.
"Head to toe, as though a shameful object, it was hidden under cloth," David Goldblatt, celebrated anti-apartheid photographer, wrote to GroundUp. Goldblatt chose to move his collection from UCT to Yale University after UCT appointed a committee to remove or cover artworks in its collection.
"For nearly three years, the sculpture stood at the centre of the main library of the University of Cape Town, grotesquely demonstrating the university's trashing of freedom of expression" wrote Goldblatt. "All who passed bore witness to the violation of Willie Bester's art, yet few said anything and no-one lifted a finger. Until an American, William Daniels, for whose guts and regard for our precarious democracy let us all give thanks."
In opposition, UCT professor Elelwani Ramugondo tweeted: "Why would a white man see the need to derobe a sculpture in order to expose a naked Sarah Baartman yet again?"
Ramugondo spent time as Vice Chancellor Max Price's special advisor on transformation during the height of the Fallist Movement.
Ramagundo's husband and UCT PhD candidate, Frank Kronenberg, said on Facebook that the removal of the robe "can rightfully be regarded as provocation". He said he had asked librarians why this had been done.
Following the uncovering of the sculpture, Gwenda Thomas, Executive Director of UCT libraries, said in an email to library staff that she had informed the university executive.
Daniels responded: "Censorship is anathema to the library profession and a grave violation of South African and international codes of professional ethics for librarians, not to mention a scandal to academic freedom and to the constitution of South Africa."
"Works of art may well be a 'university-level matter,' but the ethical obligations entailed in this case are not: they are ours," he said. "I therefore implore you to raise your own voice … to articulate the fundamental principles of our profession and to defend freedom of expression, artistic freedom, and academic freedom."
Associate Professor Jay Pather, the Head of the Works of Art Committee (WOAC) at UCT, told GroundUp that the covering of the sculpture had taken place in the "context of numerous artworks that foregrounded naked black bodies". He said that from the students perspective they had "robed the sculpture not covered it."
Daniels on the other hand has argued that using the term "disrobe" fell "victim to the pathetic fallacy". He wrote: "The word 'disrobed' implies that a person was deprived of clothing. But the sculpture is not a person, and it was not clothed, but covered up with cloth."
Pather said a public meeting had been planned to discuss the matter including discussions on the right to freedom of expression and the right to dignity. Bester as well as students who support covering the sculpture would participate in the meeting. Bester has agreed to present the "history and the context of the sculpture" at the meeting. However the uncovering of the sculpture had "changed the dynamic" of the situation, said Pather. Nevertheless WOAC still intends for a public meeting to take place, and Bester has agreed to participate.
Daniels told GroundUp that he had been called to a meeting on 22 January with Thomas where she read a letter from the vice-chancellor instructing that the sculpture be covered. But, following this meeting, Thomas wrote to Daniels: "I will not support the vice-chancellor's decision to place the coverings back on the Sarah Baartman sculpture."
Other academics voiced their support for Daniels.
Elisa Galgut, professor of philosophy at UCT, said that Daniels's actions were "very brave in [defending] freedom of expression and academic freedom." However, it is "also sad that the prevailing climate necessitated that this be done in secret."
"I also thought that the way the university handled the issue [of removing artworks] was undemocratic and not well thought through," Galgut said.
Imraan Coovadia, a novelist and professor of English at UCT, also praised Daniels. "I got to read your correspondence about the statue," he wrote. "It's wonderful!"
"I've been watching this dreary march of censorship and hatred with such dismay," Coovadia wrote.
CORRECTION: The original version of this article stated that David Goldblatt moved his works from UCT after artwork was destroyed in student protests. This is incorrect; his decision was a consequence of a committee being appointed to remove or cover artworks in its collection.