Putting the smile back on children's faces in Bizana
Retired nurse Funeka Cele works for Operation Smile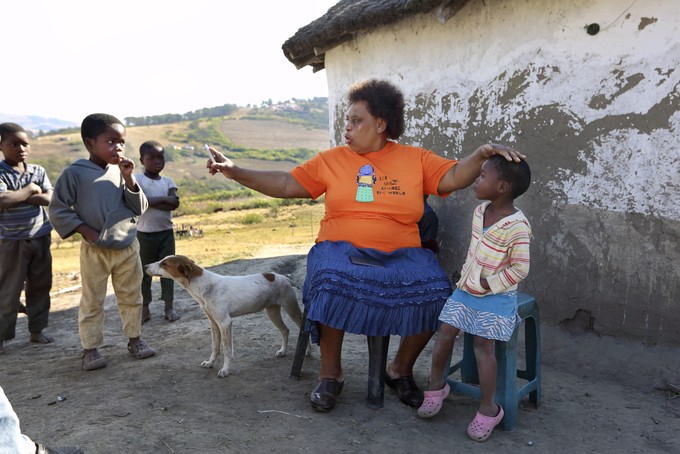 31 August 2016
For the people of Bizana in the Eastern Cape, Funeka Cele, 63, is "the nurse who has never retired".
Two years ago Cele retired from her job at St Patrick's Hospital in Bizana, where she qualified as a midwife in 1980. But her official retirement just meant she could work as a full-time volunteer for Operation Smile, with whom she'd been working since 2008 at the hospital. Operation Smile provides free surgery to repair cleft lips and palates and other facial conditions in children.
Cleft lips and cleft palates are among the most common - and easiest to treat - problems children can be born with, says communications coordinator for Operation Smile, Sean Robson. Worldwide, a child is born with a cleft every three minutes.
A cleft is an opening in the lip, the roof of the mouth, or the soft tissue in the back of the mouth. Patients with cleft lip may also have an opening in the bones of the upper jaw and/or the upper gum, says Robson. Patients may have difficulty eating, and may suffer from low self-esteem. Ear disease and dental problems are frequent. The cause of clefts is unknown, he says, but the surgical success rate is high.
Cele's work is to travel from village to village, identifying children with problems, counselling and supporting the family, and, where necessary, organising surgery for the child. The surgery takes place in Mbombela in Mpumalanga, with Operation Smile paying travel costs and accommodation for the child and parents.
She says on average she finds three or four cases every three months. She deals with babies as young as three months.
Sometimes the families are reluctant to accept surgery, says Cele, for cultural and other reasons.
"Recently a young woman from Mpumalanga who had agreed to have her child go for surgery, turned me down on the date set for the surgery. Her family had told her to accept the child's natural condition."
Girls and women sometimes blame themselves for the child's condition, she says. Women are sometimes blamed for inheriting faulty genes and accused of passing these on to the infant.
In other cases, families believe that the condition is a blessing from God and if the child is operated on, the blessing will vanish, says Cele. She says some families prefer to leave the children without an operation "for their own selfish reasons". "They are tempted to exploit the condition to access a disability grant."
Taking care of babies and children with cleft lip or cleft palate is hard, Cele says, and families who do opt for surgery are always grateful. "Personally I am also grateful because volunteering for this organisation opened opportunities for me. I have been to different African countries including DRC, Madagascar and Ghana."
Cele says before Operation Smile was established, it was hard for families to get treatment in local public hospitals. Some children stayed on the waiting list for a long time with the problem.
"We always try to persuade the parents to grab the opportunity. We encourage the parents to keep children's photos to show them when they grow up."
"I hope this will also encourage these children to take their studies seriously and appreciate volunteerism so that when they grow up they can do the same."
Operation Smile is celebrating ten years in South Africa this year. In that time the organisation has screened 463 patients, treated 320 patients and provided 389 procedures.
To mark the anniversary, some 80 operations will be performed between 27 September and 3 October at the Rob Ferreira Hospital in Mbombela.