Public sector workers threaten "full-blown" strike
Workers picket outside bargaining council, as they reject 3% wage increase offer
20 September 2022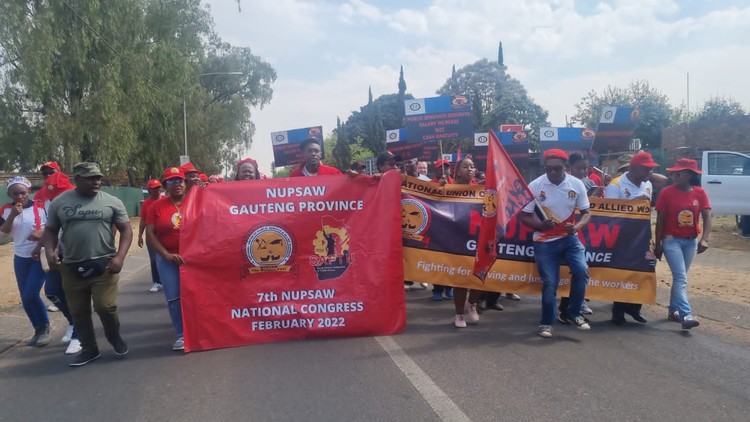 Public service workers picketed outside the offices of the Public Service Co-ordinating Bargaining Council in Tshwane, on Tuesday, threatening to strike. Wage talks with the government have been deadlocked for three weeks.
Members of unions affiliated to the SA Federation of Trade Unions (SAFTU) are demanding a baseline increase of 8% while the government is offering 3%, up from an initial 2%.
Peter Ntsime, who has worked as a police officer for 29 years, says he earns R18,000 a month, R7,000 after deductions and has not had an increase for two years. He said the South African Police Service (SAPS) is not filling vacant posts and workers are "overstretched".
"We don't have enough manpower to tackle the crime engulfing this country. Officers even lack uniforms in certain areas and are forced to buy the uniform themselves. We receive R1,600 uniform allowance for the whole year, and R1,200 covers only shoes. It's tough and we can't cope. That's why we say the 3% is ridiculous."
"We are working very hard, and police officers are killed on a daily basis, " said Ntsime.
Gauteng chairman of the National Union of Public Sector and Allied Workers(NUPSAW) Sibusiso Nkasa said, "We hope that we find a common ground with the employer. We reject the 3% totally. We are willing to negotiate until something better is offered," said Nkasa.
Nkasa works as a radiographer for the Gauteng Department of Health. He said the offer was a poor acknowledgement of health workers' hard work during the pandemic.
"We have been working tirelessly. There is no gratitude at all shown to public servants," said Nkasa.
NUPSAW secretary Solly Malema said to workers: "We only have one option to go. A full-blown strike now."
SAFTU spokesperson Trevor Shaku said a full-blown strike would follow if the government did not meet their demand. "We can't allow them to get away with 3%," said Shaku.
South African Police Union (SAPU) spokesperson Lesiba Thobakgale said the process was likely to drag on, but workers would not give up. "We are not going to compromise. We demand an 8% wage increase and nothing less," said Thobakgale.
Public Service and Administration Acting Minister Thulas Nxesi has said the government offer "takes place under a difficult financial situation and when the rate of unemployment in the country is high".