Protesters open assault case, alleging municipal official pepper-sprayed them
Protesting unemployed security guards were demanding jobs with the Nelson Mandela Bay municipality
24 June 2021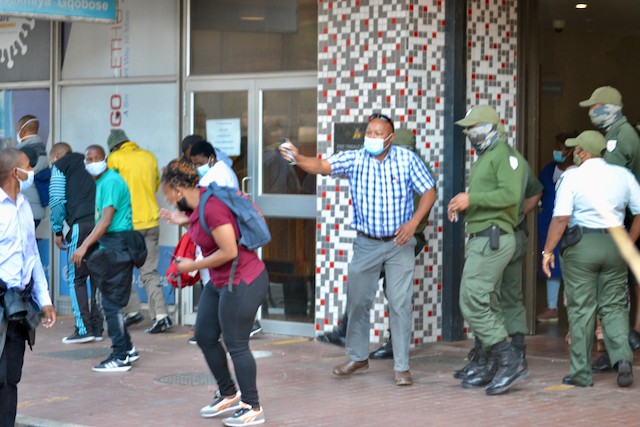 Unemployed security guards who were protesting outside a municipal customer service centre in central Gqeberha on Tuesday, opened a case of assault after they were pepper-sprayed.

Police spokesperson Colonel Priscilla Naidu said four protesters (two men and two women) opened a case of assault at SAPS Humewood police station. "It is alleged that they were pepper-sprayed by a person from the municipality when they were protesting outside a municipal building. No arrests have been made. The case is still under investigation," said Naidu.
On Tuesday, about 50 unemployed security guards protested by barring people from entering the Mfanasekhaya Gqobose building. They were demanding that the municipality employ them. The guards had been left out of a previous process of insourcing security guards.
A man in plainclothes, said to be a senior municipal official, flanked by members of the Tactical Response Team, pepper-sprayed the protesters.
For over an hour the official had been seen making calls. It was when two public order police vans screeched to a halt in front of the building that he pepper-sprayed the protesters.
Four protesters were seen washing their faces and complaining that their eyes burned.
Protesters followed the heavily guarded official for a while as he walked down the road, hurling verbal insults at him. One protester said, "You better have security guards around you for 24 hours every day."
Police transported the protesters to Humewood station where they opened a case of assault.
Nelson Mandela Bay Municipality spokesperson Kupido Baron has not responded to our questions nor confirmed the identity of the official.