Protesters call for suspension of CPUT classes
Deputy Vice-Chancellor urges students to be responsible during protests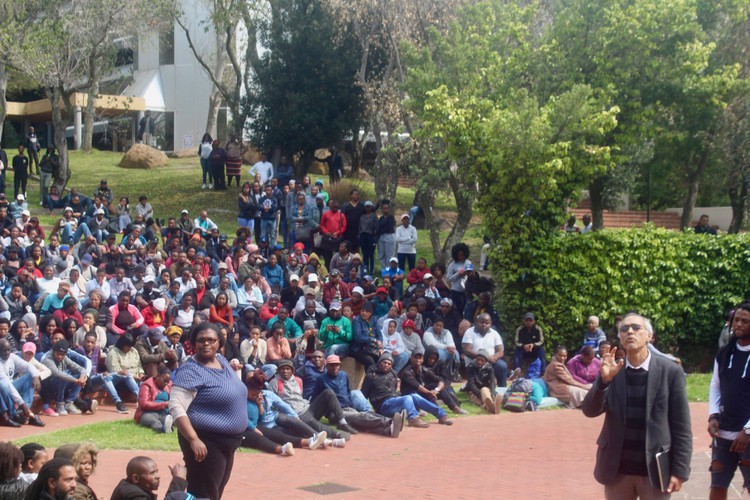 12 September 2017
In a second day of protests, more than 200 demonstrators gathered in the parking area outside the Cape Peninsula University of Technology (CPUT) Cape Town campus on Tuesday morning.
The protests are over the university management's handling of employee contracts and the suspension of four student leaders. The protest coincided with a meeting between staff unions at CPUT and the university's management at the Bellville campus to discuss union demands.
Workers standing outside the campus told GroundUp that staff were allowed to enter, but that the increased security in the area made them question their safety.
CPUT spokesperson Lauren Kansley told GroundUp that the campus was "not fully operational", but had not closed down either. She confirmed that the university had hired two private security companies to deal with any disruptions.
Deputy Vice-Chancellor Professor Anthony Staak addressed the protesters and asked them to make a list of demands. "We'd like to get on with this crisis and continue the operations of the University, but we have to do it in a responsible manner."
Protesters shouted their demands to Staak. Several people said they wanted academic activities suspended until their demands were met. They also wanted suspended student leaders to be present at negotiations with CPUT management, and private security guards to be removed. They demanded to speak to the acting vice-chancellor Dr Chris Nhlapo.
Kansley said that advocate Lionel Harper from the Dean of Students Office had also met protesters at the Athlone campus following previous engagements with them. He had promised to give them feedback on some of the issues they raised, Kansley said.
Some protesters threatened GroundUp's reporter. One protester said that people who were not students should leave for their own safety.