Violence in prisons is increasing. The prisons watchdog needs more power to stop it
A Constitutional Court decision, awaited since March, will be crucial for the safety of inmates and wardens
3 September 2020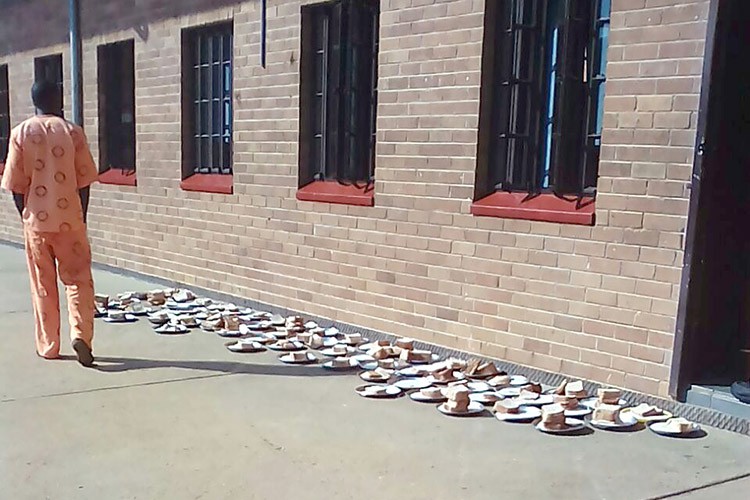 Democratic South Africa's prisons have not changed nearly enough from what they were during apartheid.
In the past year, use of force in correctional centres has increased dramatically and there are other signs of deteriorating conditions.
There is an urgent need to strengthen the independence and authority of the Judicial Inspectorate of Correctional Services.
---
"It is said that no one truly knows a nation until one has been inside its jails. A nation should not be judged by how it treats its highest citizens, but its lowest ones." - Nelson Mandela.
When our country became a democracy in 1994, with the world's most famous prisoner becoming our President, the new dispensation turned its back on apartheid's prison system. Instead, it committed itself to a correctional system that placed human dignity, restorative justice and rehabilitation at its centre.
An essential part of the new deal was a brand-new arm of the Department of Correctional Services (DCS) – the Judicial Inspectorate for Correctional Services (JICS), specially tasked with oversight to protect the dignity and human rights of incarcerated persons.
One of the very first Inspecting Judges, Judge Hannes Fagan, set to work with energy and vision. He decried overcrowded prisons, senselessly over-long sentences, ungranted parole, and inadequate opportunities for rehabilitation.
But for how long did democratic South Africa turn its back on apartheid's prison patterns? The sad answer is: Not for long enough. Although our penal system was transformed legislatively, with a fine forward-looking statute (Correctional Services Act), as with so much else in our country, reality does not accord with our aspirations.
Our country remains grievously over-invested in incarceration. And our prisons remain populated by the same people apartheid targeted – black people, poor people, marginalised groups. Our carceral geography still takes a shape that is black and male and poor.
The problems Judge Fagan highlighted 20 years ago are the same problems I worry about.
Our prison system is not functional. And our prisons are fast becoming more dangerous. Recent reports of stabbings, prisoner-on-official, in Westville prison are gravely alarming. As I write this, a concerned parent's anxious message, relayed to me through a Member of Parliament, reports severe beatings of awaiting-trial prisoners at the same prison.
Our justice system's over-reliance on locking people up has led to overcrowding and inhumane conditions. In some places, we force personnel to cram three times more prisoners into cells than intended. Some don't have beds. Living conditionss are unhygienic and unsanitary. The risk of sexual and other violence constantly lurks. The risk of contagion – from Covid, TB, and HIV – looms. And mental well-being is eroded.
Aggravating all this is a culture of violence long entrenched in our security forces as some grievous incidents in our recent lockdown history once again showed us.
Over the last year, DCS reported to JICS a 64% increase in the use of force across correctional centres. Because of under-reporting, the number of actual incidents may be far higher.
An assertive inspectorate, exercising energetic oversight, helps protect inmates, but it also protects officials. Securing inmates' health, wellbeing and rights helps ensure safer and more dignified working conditions for personnel.
This means that JICS stands in a fiduciary role to all in the correctional system, inmates as well as personnel. Their wellbeing and dignity, and respect for their rights, are vital for everyone's wellbeing.
The Covid-19 pandemic has underscored the interconnection between the safety of inmates, correctional personnel and our communities, and cast a harsh light on existing institutional problems.
A guilty verdict does not extinguish our constitutional promises to each other
JICS's independence from DCS has been at the forefront of the debate. The national lockdown presented unique operational challenges for both correctional centres and JICS.
In this troubling environment, JICS found itself hamstrung, by no means deliberately, but severely.
For the first two months of lockdown, independent correctional centre visitors were barred access to all centres. Inspections and visits were suspended. And inmates' rights of access to their lawyers were severely restricted.
This meant that, at a moment of national fear and uncertainty, those inside had no effective way to communicate. They were left exposed and vulnerable, and correctional centres were left without oversight, leaving both inmates and officials at risk of untoward and unreported danger.
Throughout the lockdown, my office received complaints from inmates fearing for their lives, and from their families, left without means to confirm the safety of their loved ones.
After troubling incidents at Brandvlei Correctional Centre, in the Western Cape, a rightly anxious family member, whose complaints we sought to pursue, sharply denounced JICS for failing its mandate.
The charges triggered sobering self-reflection, since what we can achieve is in truth limited.
The limitations come in part from the statute, which constrains what JICS can do in facilitating inspections to report on conditions and treatment of inmates, plus, where necessary, to conduct investigations.
In executing this mandate, JICS has no operational authority over DCS. DCS has formally accepted that it must consider and make decisions in line with JICS's findings and recommendations. But ultimate operational clout lies with the department alone.
JICS's reports and recommendations are, to our frustration, not automatically binding. This contrasts with jurisdictions abroad, where some prisons inspectors' findings are binding (Zambian Human Rights Commission), or where, at least, prisons are obliged to explain why they haven't implemented inspectorate findings (Correctional Investigator in Canada, and Prison and Probation Ombudsman in the UK).
Is JICS doing enough? Humanly, the answer is "no", as we truthfully conceded to the angry Brandvlei relative.
Human energies and weaknesses aside, JICS's statutory limitations underscore the urgent need to strengthen its independence and authority.
JICS's independence from DCS has long been a hot-button issue. In 2016, Sonke Gender Justice turned to the High Court to strike down certain provisions of the Correctional Services Act for failing to guarantee JICS's operational and financial independence.
Judge Boqwana agreed. She found that granting the National Commissioner disciplinary power over JICS's CEO, and making JICS financially dependent on DCS, ran unconstitutionally counter to its duties as an independent oversight body.
More than six months ago, on 3 March 2020, the Constitutional Court heard argument for confirmation of Judge Boqwana's order. Sitting, this time, in the court's public gallery, and watching intently, I felt cautiously optimistic that Judge Boqwana's judgment would be confirmed.
Last year, South Africa ratified the Optional Protocol to the Convention Against Torture (OPCAT). This envisions a national preventive mechanism to oversee all places of detention. The Human Rights Commission, in partnership with JICS plus various independent oversight bodies in the police and military and elsewhere, is designated as a national preventative mechanism.
Now, our country's national and international obligations both point to the need for JICS to be independent.
JICS has explored additional ways to secure its autonomy. It has developed a business case, which addresses its organisational structure and recommends that it be transformed into a separate "government component" – independent, within the civil service structure, from DCS.
Our proposal this year received backing from Minister of Justice and Correctional Services Ronald Lamola. It is right now being considered by the Public Services and Administration Department.
Additionally, JICS is drafting a Bill, which will recognise its functional and operational independence. If the Constitutional Court upholds Judge Boqwana, a draft statute will be waiting. Importantly, its provisions would require DCS to engage actively with JICS's recommendations.
It is important not only that JICS functions independently – we must also be perceived as independent. Public trust is vital for the Inspectorate to do its work effectively, and for inmates and their families to trust that their complaints and anxieties will be investigated independently and fairly. The Brandvlei relative's cry rings out.
Incarceration carries with it an immense social responsibility. Our Constitution protects every person. A guilty verdict does not extinguish our constitutional promises to each other.
That is why JICS exists: to make sure that incarcerated persons are treated with dignity, that they are not abused by other inmates or officials, and that they are offered rehabilitation, as the Correctional Services Act promises.
The end of apartheid triggered several transitions. We moved from a culture of authoritarianism and unchecked public power to one of justification and oversight. From formalised discrimination to the promise of equality. From dehumanisation to enshrined dignity.
Part of that promise demands that we ensure that our correctional system does not reduce those it incarcerates to less-than-human. And when it does, it must be possible to turn to institutions that are empowered effectively to remedy these failures.