Plato accused of recruiting whites to help against "land invaders"
Mayor's message mainly aimed at middle-class residents, say veteran social activists
1 September 2020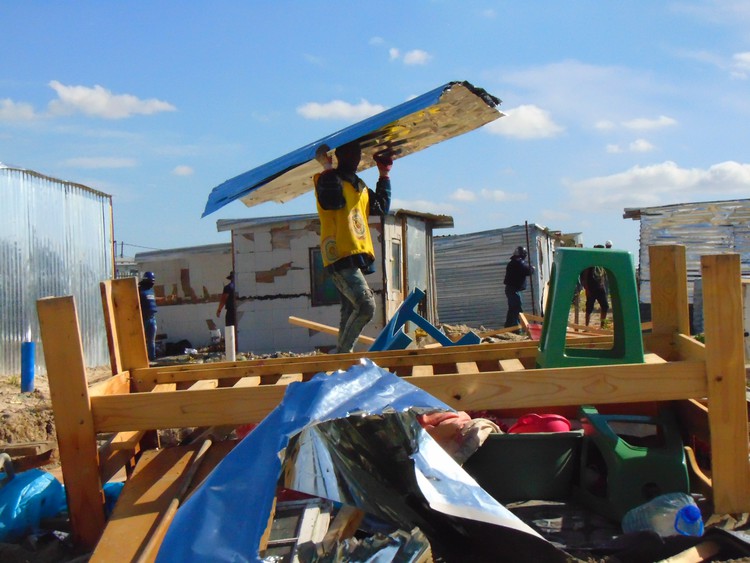 Cape Town mayor Dan Plato is trying to enlist the help of white middle-class residents against black land "invaders", a group of veteran social activists have said.
The nine veterans — Mary Burton, Judy and Julian Cook, Horst Kleinschmidt, Di Oliver, Gareth Rossiter, Hilary and Roger Southall, and Elizabeth van Heyningen — were responding in an open letter to a message from Plato published in a full-page advertisement taken by the City of Cape Town in local community newspapers on 20 August. The message was headed "Land Invasions Undermine Housing Programmes" and was accompanied by a smaller second piece that had the headline "R1.3 billion in housing projects under threat of invasion".
The activists say the message appeared to be directed at mainly white, middle-class, well-off residents living in suburbia, and that it is "clearly aimed to warn and enlist the help of those well-off residents against the black invaders".
Plato addressed his message to "Dear Residents" and started by saying: "The City of Cape Town thanks residents for reporting illegal land invasion attempts and for working with us to uphold the rule of law in our city.
"The invasions taking place on land earmarked for housing undermines law-abiding people who have waited patiently for many years on the housing list for their brick-and-mortar houses.
"The City is doing everything possible to stop what appears to be primarily orchestrated and politically motivated invasions of our private property."
In their open letter response, the nine veterans accuse Plato of aiming his message at a limited audience of mainly well-off whites living in the suburbs.
"There is no sense in the whole of the letter that your concerns are being put to the many hundreds of thousands of our citizens who live precarious lives in informal shelters around the city … There is nothing in your letter to suggest that you are consulting fully with leaders among those you accuse of organised invasion."
Plato says in his message it's clear that current land invasions are "highly coordinated and organised" and that the City has received widespread reports of "shack farming" in which plots of public land are illegally sold for R1,000 or more each.
"Criminality on this scale cannot be tolerated in our society … The social consequences of land invasions are too devastating for this illegal act to be condoned … Many thousands of law-abiding residents are silently bearing the severe impact of land invasions due to the unlawful actions of a relatively small group of people who occupy land illegally.
"Rest assured that your City will keep standing up for you."
His message ends with a heading "Anonymous tip-offs welcome" and contact numbers.
The veteran activists accuse Plato of being disingenuous when he argues that land "invaders" are undermining "law-abiding people who have waited patiently many years on the housing list".
"Everyone knows that the housing list gets longer every year and that the chances of getting formal houses for the large majority of those waiting patiently, are nil. They will die before they receive their allocation," they write.
They also tackle the mayor for "concentrating entirely on the idea that the invasions are 'orchestrated and politically motivated'".
"There is nothing in your communication that asks 'Why are people so discontented that they are prepared to put themselves at risk by being part of an invasion?'
"To us, the answer is obvious: there are thousands of people who have been waiting just for a place to live of secure tenure, let alone a reasonably permanent structure. They have run out of patience. Undoubtedly Covid-19 has augmented their sense of urgency and they want a safer place for their families."
The veterans also query why Plato does not name those he claims are responsible for orchestrating land invasions and why he refers to "opportunistic political groupings".
"What is that, if it is not a group of very discontented people getting together and deciding that with the almost complete incompetence of the authorities to make space in the city available for them, they will take the law into their own hands."
They take issue with Plato for concentrating on the illegalities of land occupations such as "shack farming" and backyard evictions.
"This is a typical strategy of right wing government leadership, such as that of President Trump in relation to the Black Lives Matter demonstrations, of deflecting attention from the real, serious issues which the demonstrations and invasions point to, by focussing on fringe criminal elements," they write. "Similarly, we believe that to call the invasions large-scale 'criminality' is aimed to muddle the issue."
The veteran activists say they are offended by the mayor's attempt to enlist them in his "aggressive campaign" by asking them to report signs of invasion.
"The City of Cape Town is the body responsible for the manner in which the city grows in accommodating its new citizens. It has done woefully in meeting that responsibility – as any drive around the Cape Flats and the current situation of more than 400,000 families living in inadequate housing, shows.
"Capable civil servants on the Council are crushed by over-powerful mayoral committees, so that there is an awful paucity of ideas and the mayoral committees, in turn, are in the pockets of developers.
"The procedural bureaucracy is so lengthy that by the time any actual housing begins to be delivered, tens of thousands of new people are in the city."
The veterans acknowledge that the national government is partly to blame because it has continued to work with out-dated apartheid-style housing policies, but the City, they say, has done nothing to provide leadership in meeting the massive housing demand.
"It doesn't even have a coherent plan. And now it wants us to be its spies and whistle-blowers. It's completely unacceptable."
Mary Burton is patron of the Black Sash and has been involved with that organisation since 1965. She was a commissioner of the Truth & Reconciliation Commission, and co-founder of the Home to All campaign. She is a previous member of the Council of UCT and a past president of UCT's Convocation
Judy Cooke is manager of the Sisonke Project that empowers grandmothers in rural South Africa, particularly for dealing with HIV/Aids
Julian Cooke is an architect who retired from UCT as emeritus professor. The recipient of the SAIA Gold Medal Award for architecture, he's widely recognised for his contribution to efforts to resolve South Africa's housing challenges, and particularly for the hostels upgrade programme in Nyanga, Gugulethu and Langa.
Horst Kleinschmidt was an activist and student leader in the apartheid era when he worked closely with Dr Beyers Naudé at the Christian Institute. Post-1994 he worked in the environmental and human rights sectors.
Di Oliver has been a trustee of the Black Sash Trust since 1995. She is a board member of several NGOs and is an active parishioner of St George's Cathedral where she is a lay minister and the Coordinator of Caritas (the Cathedral's caring ministries).
Gareth Rossiter is an independent education management professional with a background in community economic development, health, the environment and human rights.
Hilary Southall is a director of the Joint Economic Aids and Poverty Programme and a former trustee of the Black Sash.
Roger Southall is an emeritus professor in Sociology at the University of the Witwatersrand and author.
Elizabeth van Heyningen is a Stellenbosch University historian and author.