In photos: Fire destroys numerous homes in Hout Bay
City reports two people died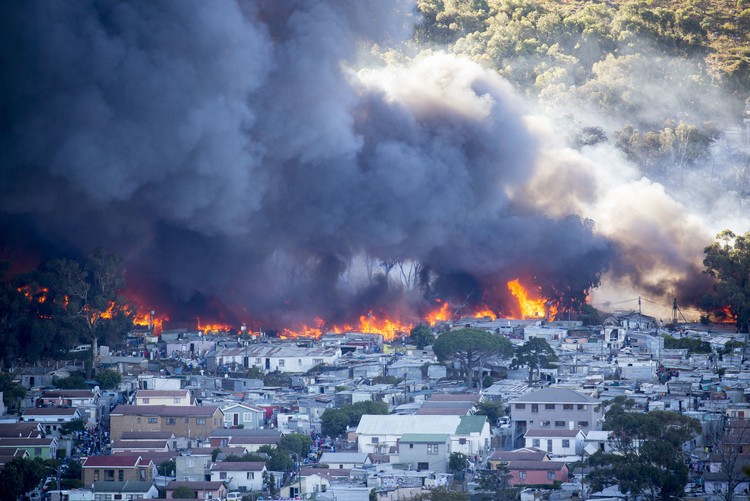 11 March 2017
Many homes have been destroyed after a fire broke out last night in Mandela Park in Imizamo Yethu in Hout Bay. According to the City of Cape Town's Fire and Rescue Service spokesperson, Theo Layne, two people died. Layne said that more than a dozen firefighting vehicles were sent to the fire and over 70 firefighters. By this morning the fire was still ongoing.
Update 6:50pm 12 March: The City of Cape Town reports that 3,500 "structures" were destroyed and 15,000 people are displaced.  
Update 5:20pm 11 March: The City reports nine fatalities in Cape Town fires in the past 24 hours: four in Wesbank, Kuilsriver, three in Kosovo, Philippi and two in this fire in Hout Bay.  
Update 3:35pm 11 March: HOW TO HELP: The City of Cape Town says donations, such as non-perishable food, baby formula milk and disposable nappies, can be dropped off at Hout Bay Fire Station. Disaster Management and Tula Tula Foundation will manage the donations.
A network of churches, The Warehouse, is also asking for assistance. Details here: https://www.facebook.com/TheWarehouseTrust/posts/10154940974011271
Update: 2:40pm 11 March: City's Disaster Management is on the scene. South African Red Cross Society is providing humanitarian relief. Nearby community halls are being opened for emergency shelter.
Update 11:50am 11 March: The City reports 650 "structures" have been burnt. The fire is under control.