Peter Chihoro cycles up to 80km a day fetching wood to make brooms
Zimbabwean has been making brooms for ten years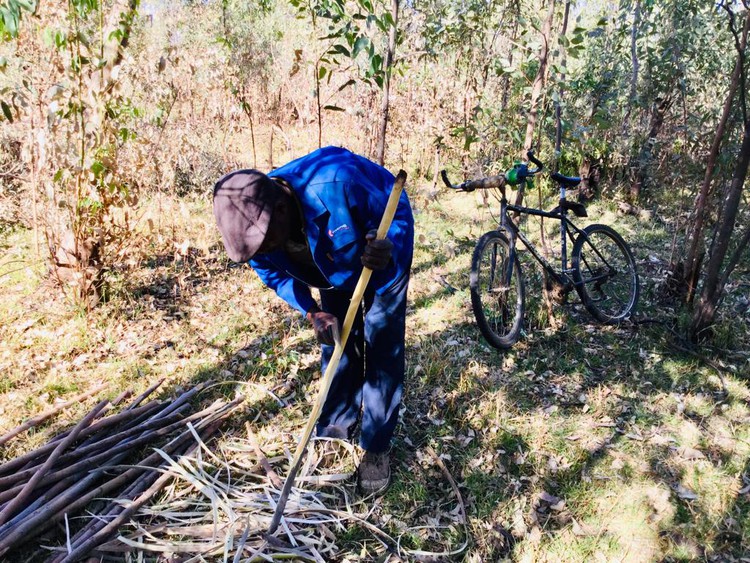 15 October 2019
Peter Chihoro rides his bicycle for 40 to 80km a day, traveling to and from his rented room in Tsakane, Brakpan, to cut branches from trees which he uses to make brooms. He sells the brooms for R60 each and says this way he has paid his children's school fees for the last ten years.
Chihoro sometimes leaves as early as 5am to ride to the bush to find gum trees to cut for his brooms. He goes to farms in Springs, Brakpan, Benoni and Nigel. Some of the farmers chase him off the land, others charge him as fee.
One farmer in Nigel charges him and other broom makers R150 each to cut up to 100 branches.
Often he goes back and forth to the bush, two or three times in a day to get enough wood for the handles.
Chihoro has been in the business of broom making for a decade. When the company he was working for in Harare closed down in 2008, he joined some friends and crossed the Limpopo River into South Africa. A friend who had promised to help him get a job disappeared. Chihoro then got in touch with another friend, in Tsakane, who was in the business of making and selling brooms. He shared a room with his friend and four other men for over a year, and they taught him the trade. He tried to look for a formal job at first but gave up when he realised he could make a living from broom making.
"The first things l bought were a bicycle and a big machete. They are the most important assets in our business," says Chihoro. "With this machete l never go wrong, it also helps scare away intruders."
"Once l started out, l never wanted to work for anyone ever again. I realised that it was easier to be an entrepreneur than to go around looking for a job," he says.
He uses his bicycle to transport the wood he has cut. He says he can ferry 50 to 60 sticks on his bicycle at a time. He walks deep into the bush, pulling his bicycle, stopping wherever he sees suitable gum trees.
"Being in a bush alone is scary but exciting. The silence motivates me to work faster."
Sometimes he has met nyaope smokers in the bushes, who demand small change and threaten him if he does not pay.
GroundUp met Chihoro cutting small gum trees in the bush near the hospital in Springs. He had identified a spot with many suitable trees and was slicing branches rapidly with his machete. When he had gathered enough, he slowly stripped off the bark to make the broomsticks.
"I have to work fast lest someone else who is in the same trade arrives, and cuts some of the trees before l finish. This is a competitive business and often we compete to find trees."
His competitors are fellow Zimbabweans.
They often run out of suitable tree branches. This is the reason why he sometimes returns to a good spot three times a day until he has taken all the best sticks.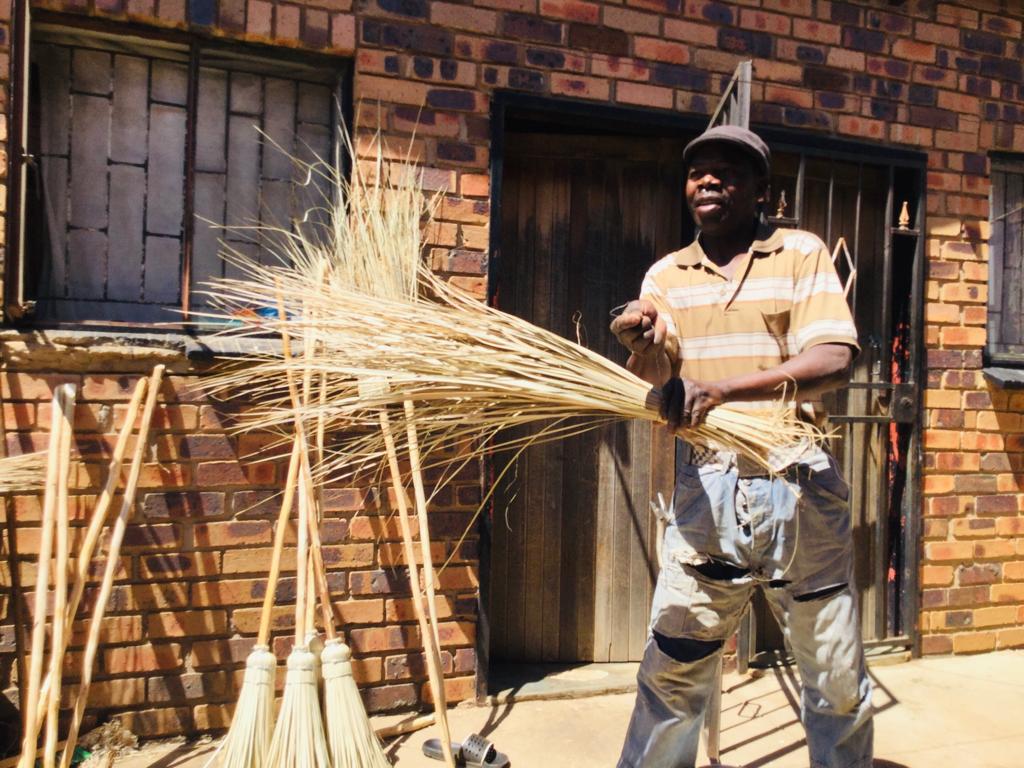 When he is ready he secures the broomsticks to his bicycle with rope and starts the slow ride home. Back in Tsakane, Chihoro starts making his brooms using the sticks, wire, and dried palm tree leaves, which he buys for R50 a bunch from other Zimbabweans who bring them from KwaZulu-Natal. He strips the leaves using his machete.
He takes the brooms on his bicycle selling them in nearby townships at R60 each and R40 wholesale. He says he makes R4,000 to R5,000 a month.
Whenever he can he sends money to his family in rural Rusape, Zimbabwe.
"I do all this so that my three children can finish school. For the past ten years this is how l have been paying school fees for them."
Chihoro says he wants to raise enough money to start making and selling coffins in Zimbabwe one day.
"I do what l can to provide for my family," he says. "Every time l see some of my customers sweeping their yard with one of my brooms, l smile."