People relieve themselves in bushes in forgotten part of East London
"Paraffin is very expensive … that is why we steal electricity"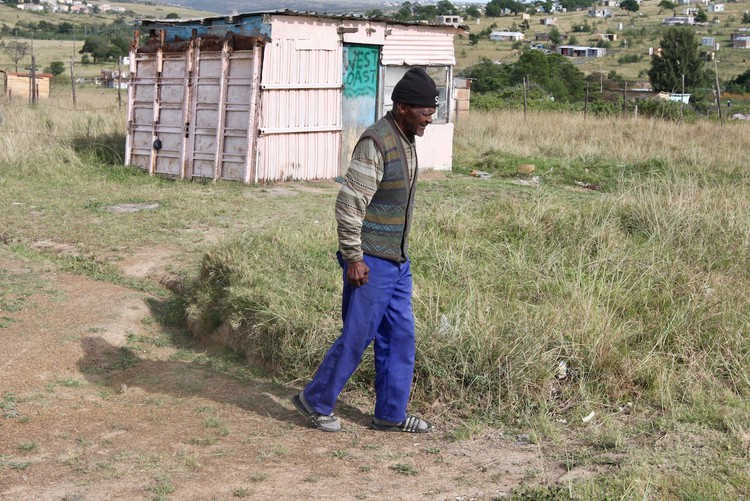 29 May 2017
Since its formation in the 1980s, the informal settlement at Ikhwezi Block One near Mdantsane, East London, still has no electricity, proper roads, toilets or houses. Residents say promises were made to them by the municipality in 1994 with the advent of democracy.
Chairperson of the community committee, Mncedisi Mdingi, said 1,800 people live in Ikhwezi. "We live like animals here."
There are electricity poles with power lines that run overhead but supply electricity to other areas. There are some illegal connections. Mdingi said people's goats, sheep and cattle had been accidentally electrocuted.
Resident Pinky Tini said, "Paraffin is very expensive … that is why we steal electricity … Electricity is the key to all things nowadays." She said there were no high mast floodlights at night and criminals were active.
75-year-old Mxolisi Saba, who lives on his own because his children are working in the Western Cape, said that without electricity he has no refrigeration, which means he must cook every day. When he runs out of money for paraffin he collects wood. He said without toilets, people relieved themselves in the bushes, and sometimes they came across snakes.
Some people have built their own long-drops.
The settlement has only two taps which all residents have to share. Trevor Gedze, 60, said, "There are times where our taps just go dry without notice. So when the water is back we make a long queue. We use wheelbarrows, carrying big containers to fetch water so that we can have enough water for the day."
There is a potholed tar road that goes to Mbekweni. Bad roads make access to ambulance and police services very difficult.
On Monday and Tuesday, residents decided to protest by burning tyres on the road that links Mdantsane, East London and King William's Town. Officials responded, and the community gave them two weeks to address the issue or else protests will continue.
Councillor Zameka Gajula said, "There are plans from the municipality to develop that area. In December last year, the council had a meeting about this area. Our mayor told us that we must start by allocating sites for people so that development can start."
He said: "The department of engineering is ready to install electricity for people of that area but electricity cannot be installed before people are allocated to their sites."