Over 200 Khayelitsha families refuse to relocate for private hospital
A fast food outlet is also planned for the site
1 June 2023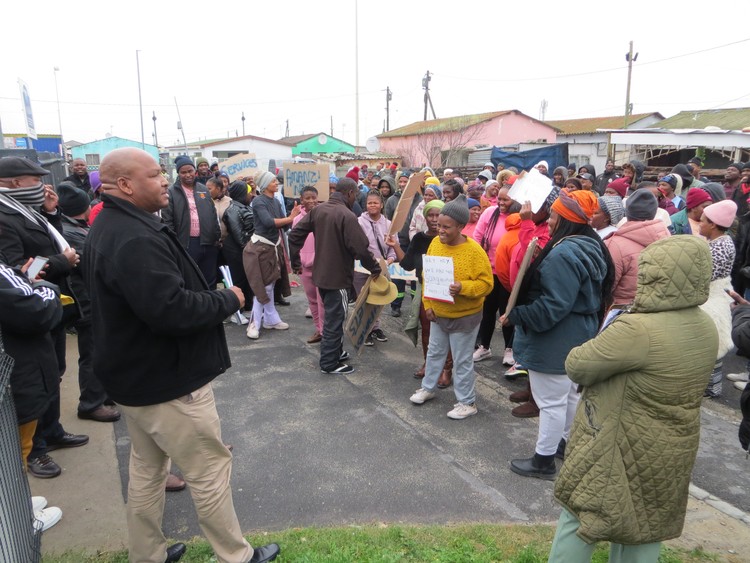 About 100 people marched in Khayelitsha, Cape Town, on Thursday to protest against the relocation of about 200 families from two informal settlements.
A new private hospital and a KFC outlet are planned for the site they occupy.
The families object to the fact that the "relocation notice" came from the Khayelitsha Development Forum and Khayelitsha Community Trust and not a court or City process.
Shack dwellers in Khayelitsha, Cape Town, are at loggerheads over the proposed relocation of over 200 families from two informal settlements.
According to community leaders, 170 families from the New Bright informal settlement and 44 families from MM section of Level Two informal settlement received a letter, notifying them to move their shacks to an area, they say, is already heavily congested.
The letter was sent three weeks ago by a lawyer representing the Khayelitsha Development Forum (KDF) and Khayelitsha Community Trust (KCT). The two organisations say the notice followed "an outcome of a negotiation" between KDF, KCT, Engen garage, Sub-council 10 officials, as well as leaders from both informal settlements.
New Bright and Level Two were established during the Covid pandemic in August 2020 as many people lost their jobs and could no longer afford to pay rent.
On Thursday morning, about 100 people marched to the ward councillor's office to demand that he intervene in the matter.
Mabhelandile Twani, deputy chair of Intlungu Yasematyotyombeni Social Movement, told GroundUp that the families took their memorandum to the ward councillor so he can address the matter with KDF and KCT.
"We want him to focus on delivering basic services instead of working with organisations that want to relocate us against our will,'' he said.
Twani said the families are refusing to move their homes without a court order. "We must go through court processes to give us an opportunity to explain our personal circumstances and why we don't want to move."
Twani said leaders of KDF and KCT had told a community meeting that the sections where people have been asked to relocate from are earmarked for a new hospital and a KFC outlet. Twani said all the affected shack dwellers were not consulted.
New Bright community leader Sanele Sisusa said most of the affected families survive on produce they grow in their own small gardens and by recycling. "If they move, they won't have space for gardening and storing their material. Most of us are unemployed,'' he said.
Zenzile Mabe said he settled in New Bright in 2020 along with his wife and seven children. He sells salt outside the Khayelitsha Mall to support his family.
"I load the salt on my trolley and push it to the mall. If I relocate, I will struggle to carry my salt to my business spot. I spent about R40,000 to cement and tile my shack."
Ward councillor Rider Mkutswana, who received the shack dwellers' memorandum, promised to convey their concerns to KDF and KCT.
He said, "The municipality is now dealing with the installation of toilets and taps in New Bright and Level Two."
Ndithini Tyhido, chairperson of Khayelitsha Development Forum, confirmed that a "relocation notice" was sent to affected communities.
Tyhido accused those who wrote the memo of "attempting to sow divisions among community members". "We remain committed to the relocation of the people of New Bright to allow for the full development of Khayelitsha Business District," he said.
Mphumzi Mange of KCT said, "This is a delicate matter. We are still undergoing delegate negotiations and would prefer not to comment further."