"Our children play in fields full of poop and pee" says protester
Hundreds of Bayland informal settlement residents block roads in Gqeberha over electricity and basic services
14 July 2022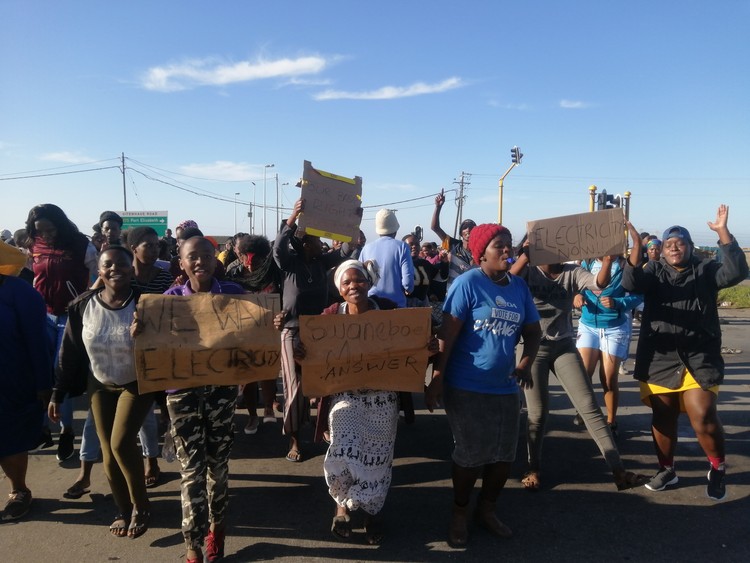 About 500 Bayland informal settlement residents blocked the R75 Uitenhage Road in Gqeberha with branches, rocks, uprooted street lights and pipes late on Wednesday. They were demanding that the municipality install electricity for their shacks.
During the protest, as public order police tried to disperse the crowd, a woman stood in the middle of the road with her arms up, showing the peace sign.
Protesters said they were angered when Ward 52 Councillor Frans Swanepoel (DA) refused to meet them earlier on Wednesday. They claim that Swanepoel's secretary sent a message, saying he had important issues to attend to and could not meet them.
"People desperately want electricity. People doing the illegal connections charge between R400 and R500 to connect each household. Then they charge a monthly fee of R200," said Veliswa Ngqoko, chairperson of the Bayland committee.
"Since these agents are [now] fighting, people have no electricity. In Joe Slovo, where, we get our illegal connections, people are complaining that our connections cause power outages for them," said Ngqoko.
Ngqoko said that Swanepoel had promised to help them after the local government elections last year.
"At Bayland we have about 4,000 and only two of the 25 standpipes are working. We also told him that we have no toilets and we use buckets and bushes to relieve ourselves. Our children play in fields full of poop and pee," she said.
Swanepoel arrived after 3pm to try and restore calm.
Resident Nomonde Jawa-Soga told Swanepoel, "This protest wouldn't have happened if you just came out of your office. Now you hiding behind these cruel policemen who are worst than apartheid police. We were just seeking Swanepoel's attention to give us electricity."
Swanepoel told the residents, "I sincerely apologise for not attending your meeting. I thought because I had nothing new to report back that there was no need for me to come. The Council is in recess. I will only be able to give you a response when the Council resumes."