Wife of station bomber dies
Ann Harris Wolfe (Pearson), 1938-2016, was the wife of John Harris, the only man classified white to be hanged by the apartheid state for political crimes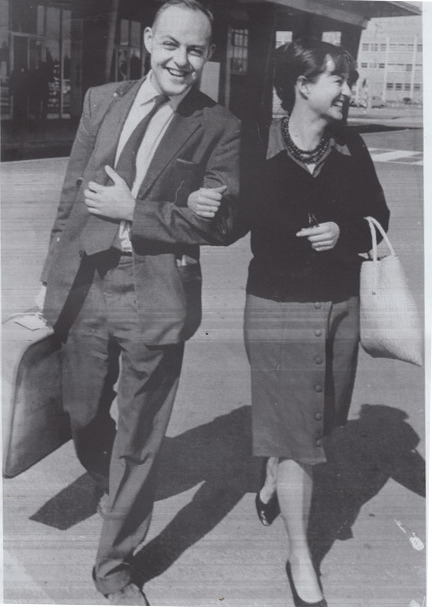 18 April 2016
On Monday night 11 April, four days before her 78th birthday, Ann Harris died in her home in the English county of Suffolk. An anti-apartheid fighter and the widow of the only man classified "white" to be hanged for a political offence against the apartheid state, she had suffered for many years with Parkinson's disease. 
She and her young son were hounded out of South Africa by the police Special Branch after John Harris went to the gallows in April 1965. He did so, singing the international protest anthem, We Shall Overcome, banned by the apartheid state.
Station bomb
At a time of mass arrests and detentions in 1964, John Harris was determined that resistance should still be shown to exist. So he placed a small explosive charge and several containers of petrol in a suitcase on the main "whites only" concourse of the Johannesburg railway station. On the case he left a note: "Back in 10 minutes".
He then telephoned warnings to newspapers and to the police to clear the concourse. These were ignored; the case exploded and a young girl was badly injured, her grandmother fatally. Whether or not the case was moved is still a matter of conjecture.
Ann, with an infant son, was not involved in the activities of the African Resistance Movement (ARM) to which John belonged although she supported fully resistance to the apartheid state. The ARM was established by members of the Liberal Party and several members of the underground Socialist League. Together with John, she had been involved over the years in anti-apartheid campaigns, especially in the sports arena.
Born in Birmingham, England, she arrived in South Africa when her family emigrated in 1948 and lived in Krugersdorp. At her Catholic secondary school she met and became friends with Jane Harris who introduced her to her brother, John. The two became inseparable and together attended the University of Witwatersrand where they trained as teachers.
Her Roman Catholic family disapproved of the relationship because John was an outspoken atheist, and they had to wait until Ann was 21 — so not requiring legal parental permission — before they married. Having entered university at age 16, both were already teaching in 1959, Ann at the Indian High School in Johannesburg alma mater of many activists.
It was there that she and John first made contact with Dennis Brutus, founder of the SA Non-racial Olympic Committee (Sanroc). After Brutus was banned, John took over at Sanroc with Ann supplying support. Then John was banned.
As the government clampdown intensified, following the arrest of the underground ANC leadership at Rivonia, and with most of the ARM members in jail, John was one of the few known activists left free. He decided that a dramatic gesture was needed to "bring whites to their senses and make them realise that apartheid could not be sustained".
It now seems probable that the police knew in advance of John Harris's plan; they certainly were warned to clear the concourse after he had placed his suitcase bomb and did not do so. But they were subsequently able to use the incident in an attempt to justify their brutal crackdown, even maintaining that John Harris was part of a terror plot by "Communists".
Arrest, torture and execution
Harris was arrested, tortured and beaten. His jaw was broken in three places. His intention, he made clear — and his actions bore this out — was not to hurt or kill anyone. He planned a dramatic gesture in a "whites only" environment to show that, as Ann said, "there are people of all races opposed to apartheid and prepared to take action against it".
Shortly before he was to be executed, John told Ann that she should, after his death, write a letter to him as if he were still alive. She did. In a lengthy missive she noted: "It is an honour to be hanged by Mr Vorster (Prime Minister John Vorster) just as it is an honour to be banned by him."
But life became increasingly difficult. She was a single mother and the police ensured that she was unable to find work in South Africa. Constant harassment by the Security Branch also continued, forcing Ann to seek refuge in Britain. There she met and married environmentalist Martin Wolfe and together they created the internationally renowned experimental farm, Wakelyns.
In 2005, John Harris's name was the first to be inscribed on the Wall of Remembrance in Freedom Park on the hill opposite the former "hanging prison", Pretoria Central, now C-Max. At the ceremony Ann, son David, daughter Lynn and other members of the family joined former comrades, friends and ex political prisoners to honour John. Earlier, members of the family and a group of friends gathered outside the prison gates where they sang We Shall Overcome.
Ann was also present at another event in December 2011 when the families of those hanged for political offences were invited to a memorial in Pretoria, centred on C-Max. It was the opening of the old death row cells and the gallows as part of a museum.
Although later crippled by Parkinsons disease, Ann still managed, using a motorised wheelchair, to be actively involved in Wakelyns farm almost to the day she died.
Her attitude is best summed up In a submission she gave to to the Truth and Reconciliation Commission: "I personally feel that I was privileged to live and work for a short time amongst a group of heroes who put their liberty and, in the end their lives, on the line in the struggle."
Hamba Kahle, Qabane.
Correction: In the editing process the subtitle of the article originally stated that Harris was the only man who was classified white to be hanged by the apartheid state. It should have included the qualification "for political crimes". It has been corrected.