NMMU students picket at court in support of arrested protesters
They demand free education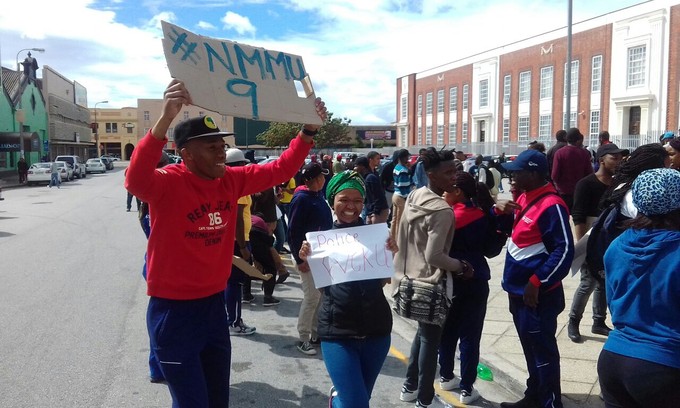 22 September 2016
Students from the Nelson Mandela Metropolitan University vowed to continue with the Fees Must Fall protest. They gathered early in the morning at the Port Elizabeth Magistrates' Court where nine students appeared in court.
The six female and three male students were arrested late yesterday in Summerstrand. They were part of a group of about a thousand students
who were singing and blocking traffic along the beach. Police used stun grenades to disperse the group.
Today, nearly three hundred students converged at the court. They held placards saying "Biko Lives" and "Free Education for the poor".
The nine students faced charges of contravening the Road Traffic Act, and causing a public disturbances. They paid a R50 admission of guilt fine last night before being released.
Their case today was postponed to 12 October for further investigation.
Economic Freedom Fighters student spokesperson Awethu Fatyela said the nine are just victims of police brutality because the students were not provocative.
She said: "Our position as the Fees Must Fall students is that we condemn the arrests of innocent students who are fighting for their rights and the freedom of black children of this country. They are fighting for free education. We believe that the real criminals are sitting in government pumping millions of rands to ailing South African Airways, and yet we are told there is no money for free education when it is very clear that the money is there. We believe the arrest was unlawful because no student provoked anybody at the Boardwalk. … We will continue putting pressure for free education. They should stop all these commissions wasting tax payers' money. They know where the money will come from to sponsor free education."
Similar sentiments were expressed by Thandeka Tshabalala of the Students' Representative Council. "We want our curriculum to be decolonised. If it means [we] destabilise all sectors of capital in this country we will do that. From here we will hold a mass meeting and draw up a memorandum with our demands. We had 2,400 students this year who went on debt relief and registration exemption relief. Cash paying students are struggling to pay their fees. The university has more than 27,000 students and one third pay cash, while the remainder gets different sponsorships like NSFAS which is too little."
The university's acting Vice-Chancellor, Dr Sibongile Muthwa, published a statement a short while ago. He wrote: 
NMMU acknowledges and supports government's decision to include the "missing middle" up to a ceiling of R600 000 earnings of a family per annum to provide some financial support. It is our understanding that students from the so-called "missing middle" – those families who do not qualify for NSFAS funding but are unable to afford tertiary tuition – will be expected to pay fees at the 2015 rate in 2017, but that the government will pay any possible fee increase of up to 8%.

As a result of this, poor and "missing middle" students will not be impacted negatively by universities increasing fees for 2017 up to 8%. Furthermore, this will contribute to ensuring that universities can continue to offer quality education. 

The University has a positive track record of addressing challenges around student funding. We urge our students to work with us to restore stability of university operations. Failure to do so, will negatively affect both the quality and outcomes of the academic project.

In November last year, using its discretion and within the limits of affordability, the NMMU Council took a bold and morally ethical decision to offer 2015 debt and 2016 down payment relief to academically deserving students who formed part of the "missing middle". 

In light of the prevailing economic climate, along with the funding needed to fulfil NMMU's promise of reintegrating outsourced services, the university will be facing significant challenges to its medium and long-term sustainability.