New creche for PE informal settlements
Residents relieved that they do not have to travel far to drop off children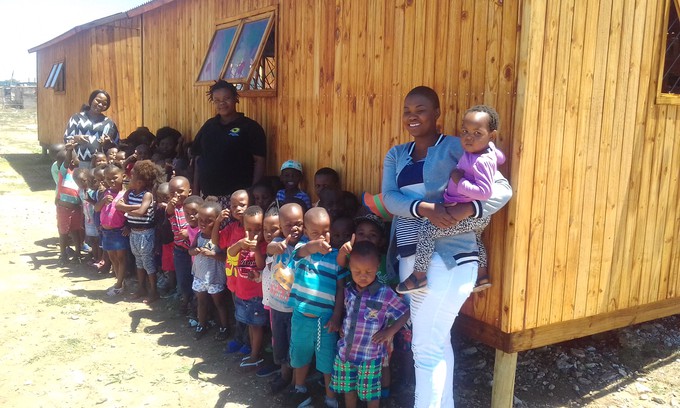 6 February 2017
Residents of three informal settlements in Port Elizabeth are excited following the establishment of a preschool. Under The Tree Early Childhood Centre was opened two weeks ago in Endlovini informal settlement in Motherwell.The crèche caters for poor children from two other closeby informal settlements: Powerline and Hlalani.
It is managed by Family Restoration Services, a donor-funded non profit organisation with a mission to educate children in informal settlements. Tia Wessels, one of the organisation's directors, said they have nine educators who were all selected from the three informal settlements. After a screening process, eight mothers "completed the Level 2 Early Childhood training course," said Wessels.
One of the educators at the crèche, Ntombekhaya Nana,32, said: "The crèche helps poor residents of this area. We live in informal settlements where there are very few services and limited opportunities. There are also no playgrounds for our children to use. Many parents cannot afford to buy toys for their children yet toys are recommended in a child's early life. This crèche offers them that opportunity The children share a limited number of toys that we have. We never expected to have a crèche in this area. We used to take our children to other areas far away. Another advantage is that parents are not paying any school fees here."
Nomqubelo Kortj, 61, said she was relieved that her three-year-old grand son, Melikhaya, is a beneficiary of the crèche. Korti, who lives in a shack in Powerline, said she no longer has to travel long distances.
Under The Tree Creche is operating from two wooden structures that accommodate 60 children. The two structures cost just over R100,000, but that excludes furniture and fittings.
Wessels said: "One classroom is utilised for the two-and three-year-olds while the other is for four- and five-year-olds. Each class accommodates 30 children.The children receive two meals and a snack everyday."
Wessels said that in addition to the crèche, there are two educators who conduct door-to- door visits in the surrounding areas, attending to children aged up to two years."They are visited and stimulated at home and the children's caregivers have also been trained. They receive a meal twice a week."