The musician who sings gay love songs in isiXhosa
Majola produces his first album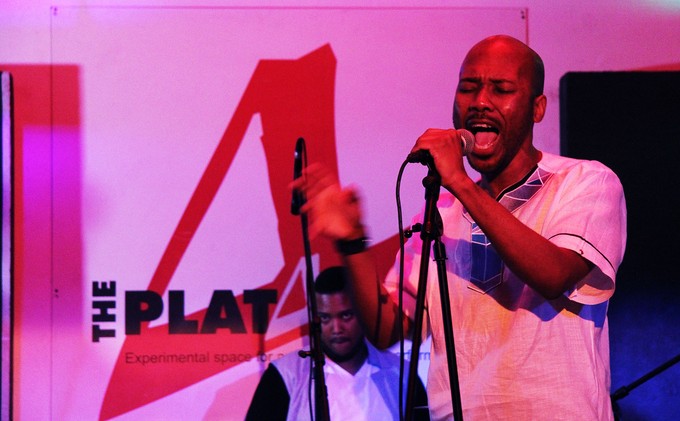 8 June 2016
As a musician who sings in isiXhosa about being gay, Majola faced more than the usual challenges confronting young musicians trying to make a name for themselves.
But thanks to self-reliance and tenacity, he has produced his first album, Boet/Sissy, and performed with the likes of Sibongile Khumalo and Lebogang Mashile.
Majola, whose off-stage name is Khanyisa Buti, spoke to GroundUp about the battle to get where he is now.
Back in 2008, as a 22-year-old, Majola faced his darkest moments. Living in the south of Johannesburg, where his aunt took care of him, he would walk for four hours a day auditioning for any role in the South African arts scene.
"I came back with rejection after rejection. I don't blame my aunt for sometimes getting tired of supporting me because I was a grown man already. It was such a painful time and I would get home, take a bath and listen to Sibongile Khumalo's Khumbula on repeat."
It was during this time that Majola lost the R20,000 he had saved up to record his first album.
It was to take four more years for him to step inside a production studio to start recording his first track.
"It took me about two years to record Boet/Sissy. I had sessions from 2012 until early 2014. I would stop and start because I had to save in between."
With the album costing about R60,000 to produce, Majola says the debts stacked up. Now he's hoping that through album sales and concerts, he'll be able to pay back the money he owes.
Boet/Sissy is an album about self-acceptance in a time where "backward laws of sodomy" still exist. The album, says Majola, places the listener in a courthouse where the singer delivers a statement before receiving judgment.
The album actually features Constitutional Court Judge Edwin Cameron whose voice can be heard during several interludes. Justice Cameron, says Majola, has become a friend and mentor to him.
Majola describes himself as a biographical songwriter. All the material on his début album emerged from his experiences, thoughts and emotions, he says.
"I wouldn't have produced Boet/Sissy had I not survived homophobia."
He says he has faced all kinds of criticism and hatred.
"I believe we all come from households with rules established out of love for something and hate for something. Those conditions of love and hate are because of a larger dictate from an oppressive system. So, it doesn't matter if the prejudice I experience is cultural, religious or economic. My duty is to teach myself the real meaning of love and not to echo the sentiments of bigots [and that's how] I am able to survive through the hate."
So far, the most surreal experience of his career was performing live with Sibongile Khumalo at #Ezezwe (Our Nations) which, he says, is a platform for black women and black queer men to come together to highlight issues affecting our country through academic dialogues, poetry and music.
He has also worked with actress, performance poet and writer Lebogang Mashile on a single, which is now available on iTunes.
"These are some of the people who embraced me as a person long before we collaborated. So, it's not about the name but the person and who they are when they are not in the spotlight."  
He says it's true that the local music industry is quite a hard place to operate in. Aside from the egos, there's also an unwillingness to help new artists out, he says.
"A lot of artists go through creative exploitation. I have found that this has made people working in the industry very cagey and cynical about each other although they are collectively victimised by the same beast."
Majola supports the SABC's new plan to play 90% local music, which he feels makes cultural sense.
But his criticism of the Department of Arts and Culture over support for independent artists echoes complaints commonly heard in the arts world.
"Government's intervention comes through grants and funding. Once you receive these grants to create that work, you are faced with yet another dead-end - lack of audience. I believe that even the government prepares for major losses that are caused by the lack of active participation from citizens who are meant to consume what was funded."
In all, Majola says "it takes a lot of self belief and tenacity" to push through the pain the music world inflicts on artists. He's resorted to doing all the marketing, producing and distribution of his album himself to cut down costs.
"When I fail, I lock the door at my place and cry out of disappointment, and hope that the following day I will still be able to recognise that voice that has always whispered: 'Keep going. You are almost home'."
Listen to Bawo from Majola's album Boet/Sissy.