Mounting pressure on families living at PE school to relocate
Principal says occupation is a threat to the survival of his school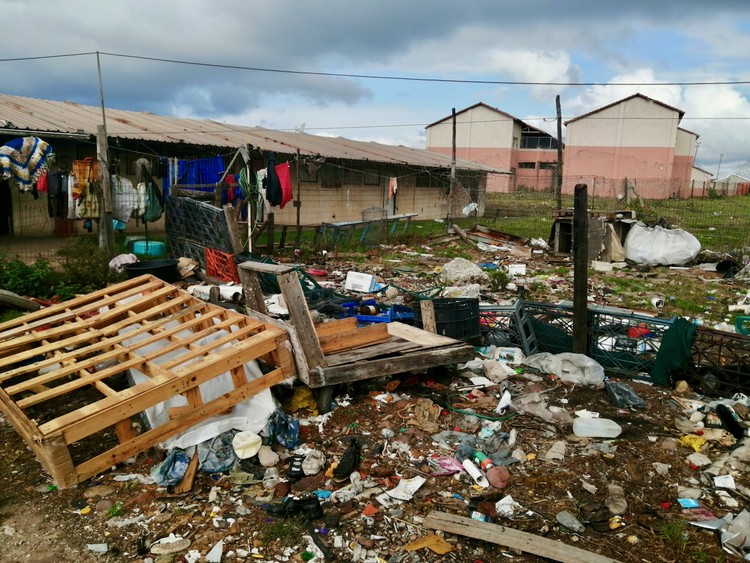 19 February 2020
Dozens of families staying on the premises of abandoned Lwandlekazi High School in New Brighton, Port Elizabeth, have been ordered to demolish the structures they have been living in and use the materials to rebuild temporary shacks at municipal sites designated for RDP houses.
In December 2001, after a fire gutted their homes, six families moved on to the site. They were followed by another 21 families.
In December 2019, they were told they would be relocated in January 2020 to Block 40 and Motherwell NU30.
Now, under mounting pressure from neighbouring Jarvis Gqamlana Primary School, Nelson Mandela Bay Municipality said the families had been told to demolish and relocate.
Paul Mbewane, chairperson of the Red Location Development Committee, said that on Tuesday night at a stakeholders' meeting at Hoza Community Hall it was resolved that those families who do not have materials should break down the classrooms they are occupying and erect shacks with the material.
"We took this approach because last year we relocated ten people from the school to NU30 but those classes were occupied again."
"We are under pressure. The school needs its playground. Then we will also look for municipal temporary houses (Wendy houses). Transport will be provided. But no date has been set as to when the relocation will start, as we still have to go back to those residents."
One of the fire victims, Mbuzeli Bawana, a father of five, said, "I can leave this school anytime if I can get material or a municipal temporary house. But the problem is I am unemployed. I survive by selling recycled cans."
Ona Mashwana said, "This is my 16th year living at this dilapidated school with my boyfriend. I was living in a family house here in New Brighton . But I moved in here when I saw other people occupying these classrooms. Since 2006, I have been applying for an RDP house but with no success.
"Life is not easy here because there are no municipal services. We get water from a broken pipe behind a block of non-working toilets. The place is stinking and filthy. We burn rubbish next to the school. We are always promised that we will be relocated to a better place. But that never happens."
The school's plight
Jarvis Gqamlana Primary School principal Mandisi Mvimbeli told GroundUp, "I want those people out of that dilapidated school building which is situated on my school's playgrounds. Their presence has a negative impact on the image of our school. We used to attract about 800 to 1,000 learners at this school. But our numbers have plummeted to 370. We are now in jeopardy of being shut down if our number goes down to 150. Every year, we have 70 drop outs."
"When the [six] families lost their homes during the fire in 2001, then councillor Jimmy Tutu asked me to accommodate them at our school. We had a gentleman's agreement – because at that time it was school holidays – that they can stay for that moment. But when the schools reopened in January 2002, I kicked them out. Then they moved into that school and other people from the community used that opportunity and occupied other classrooms."
"In 2019 we were shocked when our water bill was R98,000. We asked the municipality to cut off the water supply to Lwandlekazi."
"Lwandlekazi residents dump their rubbish inside my school because there are no municipal services for them. I really don't know where they get water now because our water account is being handled by the department.
"Last year I told the current ward councillor Celia Mtati and asked her to remove these people. She promised that early this year … But I have not seen any movement," said Mvimbeli.
"We are no longer playing rugby because we have no playing ground. For cricket we just go to the matches without practising. And for netball we use a basketball court, while for athletics we have to hire a field for R400."
"Learners have not enough space to play during the break. They are squashed near the classrooms. We are also unable to have our meetings during the break because it's noisy," he said.
Neither Mayco member for Human Settlements Andile Mfunda (ANC) nor Mtati (ANC) were available to comment.