Mfuleni parents demand a new school with better security
100 desks and 100 chairs stolen during holidays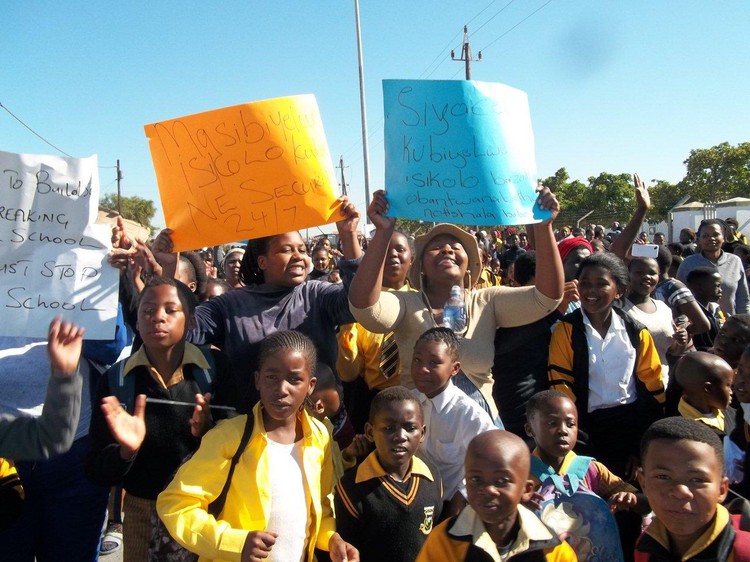 12 October 2017
Mfuleni parents took to the streets on Tuesday to demand that the Western Cape Department of Education build a permanent school at Bardale Primary School in Mfuleni.
School-governing body member Nomzi Naki said: "We want a new brick school with tight security."
She said the department had built a prefab school in 2009 and promised a permanent school in 2017. "We will stop protesting when the new school is built," she said.
Principal Ntombiyosindiso Mangcoto said parents had decided to protest to force the department to take action. "The prefab classrooms leak when it rains. We work in an abnormal environment, but the department expects us to perform well like other schools which don't experience the problems we have."
Gregory King, a circuit sector manager for Metro North Education District, arrived at the school and tried to calm down the angry parents. "I understand why you are frustrated as a community. This is a prefab school and you want a permanent school which the department promised to build," he said.
An angry parent, Nomawethu Nombewu, cut him short: "There is nothing you can help us with if there are no public works officials here."
"We need a written thing from public works that tells us when the school will be built," she said.
Nombewu, a mother of children aged 7, 8 and 10, demanded to know what King had done when the principal reported school problems to him.
"You didn't act when the principal reported problems to you because your kids don't study here," she said.
King asked the parents to return their kids to class so they would not "lose education."
Parents shouted: "No. Kids can't return to class because there are live electrical wires, and the department won't bury them when they are electrocuted."
Ward councillor Thembisile Bathembu said parents had not received any feedback from the department.
Sandise Tyeku, a parent, said: "We want the department to install CCTV cameras and hire guards to protect our kids from thugs who come in through holes in the fence and rob kids of their lunch boxes, money and schoolbags."
Mangcoto said criminals had broken into the school and stolen three laptops and seven computers on Saturday.
"We use those computers to store learners' marks and teachers' work," she said. Electrical wires, ceilings and walls had been damaged during the burglary.
"I reported many burglaries to the police, but they haven't arrested anyone," she said.
Jessica Shelver, spokesperson for Education MEC Debbie Schafer, confirmed two incidents of burglary and vandalism during the school holidays. In one incident, five classrooms were targeted and 100 chairs and 100 desks stolen as well as electrical cabling, switches, globes and light fittings.
"We are concerned that the perpetrators were able to make away with 100 desks and 100 chairs without being noticed by anyone in the community," Shelver said. "We urge community members to be extra vigilant throughout the year and to immediately report any suspicious behaviour or activities within the vicinity of their schools."
The department was working with the school to restore the electricity supply and complete emergency repairs, she said, and was investigating how the incident took place when the school had an alarm system and holiday security.
Shelver said there were plans for a new school in the Mfuleni area and the budget and timelines still had to be finalised.
Western Cape Police spokesperson Sinathi Joni said police were still investigating the robberies. He said police patrols were conducted around the school "even after hours".
Joni asked anyone who has information about the burglaries and vandalism at the school to contact Mfuleni police on: 021 909 9300 or Crime Stop on 08600 10111.