Masiphumelele residents show Public Protector how they live
"We stay in a pigsty"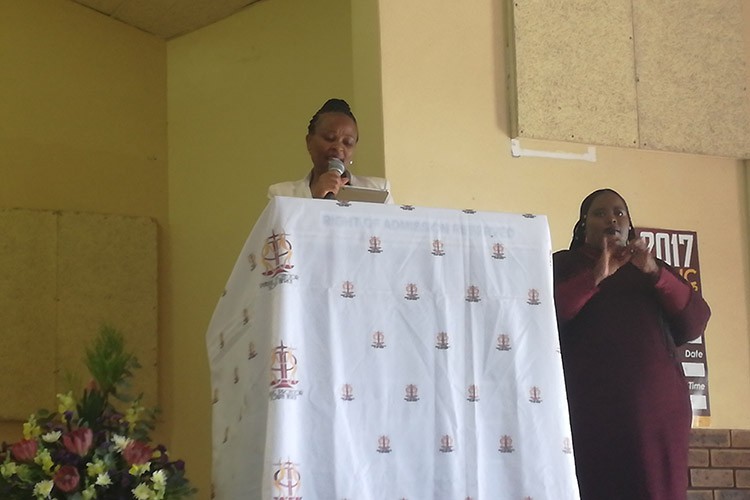 8 May 2017
"We stay in a pigsty. We live like pigs," said Sipho Sithotho referring to the living conditions of people living in the Masiphumelele wetland area.
Many complaints have been raised by residents over a number of years on the conditions of the Masiphumelele wetlands area (read What it is like to live in Masiphumelele). On Friday over a 100 Masiphumelele residents filled the community hall to address their problems to Public Protector Advocate Busisiwe Mkhwebane.
Mkhwebane said she was in Masiphumelele to introduce herself as well to hear the problems faced by residents.
She addressed the residents saying that when one searches for Masiphumelele on Google and newspapers the results that come up are not good, because they refer to the mob justice that took place in the area when residents were protesting for better policing. "We are coming to you so you can ask us to help you as the community of Masiphumelele with your issues instead of taking the law into your hands, burning things and killing each other. You can call us to sit with you and the City of Cape Town as well as the provincial government so we can see how to solve the problems," said Mkhwebane.
Residents stood up one by one to share some of their experiences and problems. Many spoke about land, unfinished RDP houses, lack of development and bad living conditions in the wetlands area. Some spoke about discrimination of HIV-positive people in the community clinic.
A frequent complaint was the vacant land that residents have been asking to build shacks on. The land is next to a new housing project. The land, bought by the City in 2003 under former Cape Town Mayor Nomaindia Mfeketo, has stood vacant all these years. There is a sports field on part of it. The community has had various unsuccessful engagements with the City about it.
Some residents shared the anguish of having their shacks demolished on a weekly basis because they are told the area is a wetland that belongs to South African National Parks.
Mkhwebana said: "We have to find a balance. Can we really prioritise parks instead of people?"
One of the requests from the community was for her to do a walkabout in the wetlands area to see the living conditions of the people who live next to the open canals and where you find more than 100 families sharing one toilet. Mkhwebane agreed and was escorted by community leaders to see the wetlands area.
Resident Rodney Dyalivane complained of the slow delivery of RDP houses in the area where some houses are left unfinished while others are still not done.
Agnes Malashe said she had been on a waiting list for almost 20 years. "I arrived in Cape Town in 1997. I am still staying in a shack. How long does it take for people to get their RDP houses? I am still waiting," she said.
Mkhwebana said her office will look at all the problems and work with the community to come up with solutions. She asked residents to report any issues to the Public Protector's office.