Masiphumelele residents reject portable toilets
"I must sit in front of my children to do my business because my house is not big enough for privacy"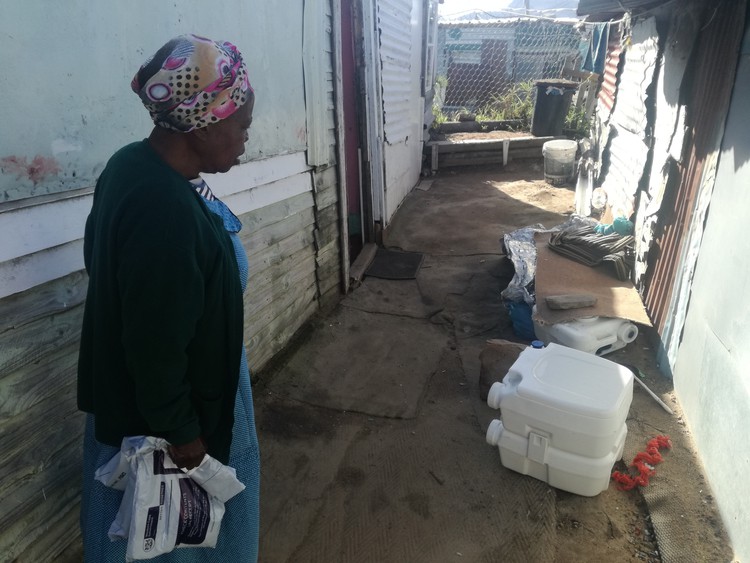 17 August 2017
"I don't want this. I live in a one room shack with my daughter and grandchild, there is no space for it," said 75 year old Regina Makhuphula.
She was one of 62 families from the wetlands informal settlement in Masiphumelele to receive a portable flush toilet on Saturday, also known as a pota-pota.
The pota-potas are a bit lower than standard toilets. They flush, but the waste is stored in the bottom section of the toilet. The toilets are collected every five days (see The Toilet Collectors, a photo essay on the people who clean these toilets).
Makhuphula says she thought she would receive a chemical flush toilet that would stand outside her house. "We do not have enough toilets. I had hope, but I can't use this. I have arthritis. It's difficult for me to bend," said Makhuphula.
Makhuphula and her neighbour Lindeka Dotwana left their pota-potas lying outside to await collection.
Dotwana lives in a two room shack with her three children and a grandchild. She says she has told her children not to use it. "We are desperate for toilets because there are not enough and most of them are blocked but I can't stay five days with faeces in my house."
"This is degrading, I must now sit in front of my children to do my business because my house is not big enough for privacy," said Dotwana.
The informal settlement has had issues with toilets for years with more than 5,000 residents sharing 233 toilets, some of which no longer work.
According to Mayco Member for Informal Settlements Xanthea Limberg there are approximately 2,400 households in Masiphumelele's informal settlement. "The City would like to provide more toilets but, due to the density and legal constraints, this is not possible," said Limberg. "Several alternative sanitation options were presented to the community and they decided on portable flush toilets (PFTs). PFTs were only provided to households who requested them. Should other residents be interested in obtaining a PFT they are free to apply," said Limberg.
Dotwana said in one meeting they attended they asked the City for flush toilets but were told there is no space. Community leader Dumisani Nhlapo told GroundUp that 17 families have already returned the toilets to him.