People's lives left on hold while Master of the High Court turns away clients
People are struggling to wind up the estates of family members because they cannot access court services
16 February 2021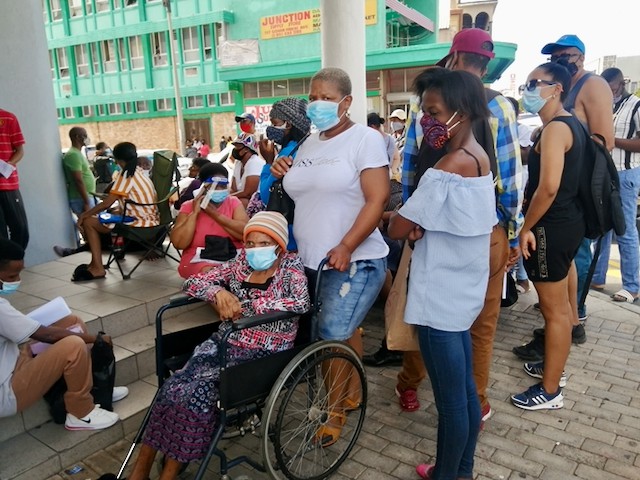 The Master of the High Court in Port Elizabeth takes only 100 people per day.
The Master provides crucial services people need to get on with their lives.
No special arrangements are made for the elderly and infirm.
---
Due to Covid-19 precautionary measures, the Master of the High Court in Port Elizabeth takes only 100 people per day. The office opens at 7:45am, but anyone who arrives after 7am will likely be turned away. Security guards give the person last in line to be served a sign to hold with "Line Closed" written on it.
Many of the people in the queue are here for Letters of Authority to execute estates of dead relatives, access their bank accounts and transfer ownership for houses and services.
GroundUp visited the queue in January and February. We saw elderly people sitting on camping chairs waiting for service. There was no physical distancing.
Last week, we met Nombulelo Loli, 71, of New Brighton, in her wheelchair accompanied by her two daughters. They begged officials to help them as they had not made the 100 cut.
Loli's daughter, Siphokazi Zito, said they had come twice, on Wednesday and Thursday. Her mother has not had electricity for over three months and the municipality wants a letter of authority proving she has taken over her late sister's house.
"We told the guards that we woke up our mother at 6am and it takes a while to prepare her and is about 300 metres to the taxi stop. Also not all drivers want to transport a disabled person during peak hour. She did not even take her hypertension medication because we were rushing to get here early. Per day we spent R90 on taxi fare … These officials don't care about the needs of disabled people," said Zito.
Mthetheleli Kuta, of Veeplaas, was there as he needed a letter of authority to write off his late father's municipal debt and get their electricity reconnected.
"Two times I was turned away in this office for arriving at 7:30am. I am unemployed. I spend R30 a day on transport but these officials don't consider that. When they finish to help us around 2pm, they just sit and do nothing while we are desperate for their services," he said.
Nomaka Ngqoko, 72, of KwaZakhele, said, "This is my second time coming here. The queue is always long. I arrived here at 5:30am and I am number 43 … I did not even get a chance to eat porridge and take my medication."
Crispin Phiri, national spokesperson for the Ministry of Justice and Correctional Services, promised in January to respond to our questions. We are still waiting.