University of Venda lectures resume after two-day protest
Management has agreed to address most of the students' demands
24 May 2023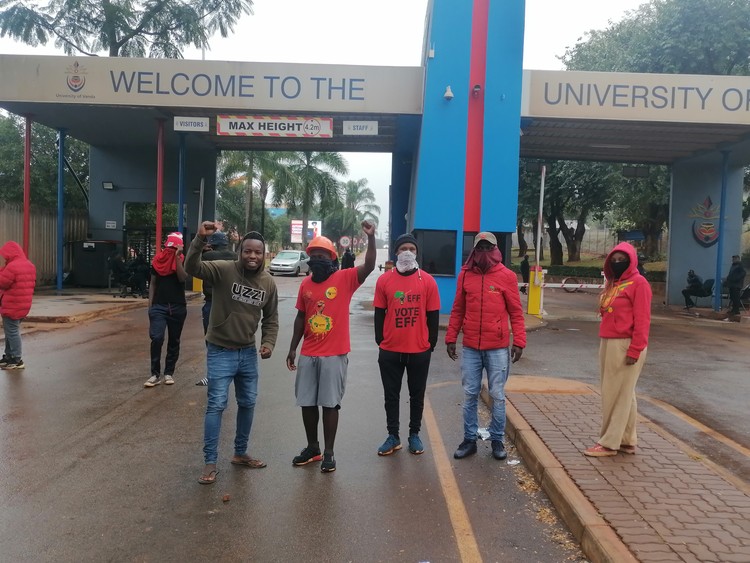 Activity at the University of Venda in Thohoyandou returned to normal on Wednesday after two days of protests by students.
The students made over a dozen demands which included the withholding of students' certificates due to payment disputes with NSFAS, unreliable internet, water shortages on campus and insufficient lecturers.
The protests coincide with protests by students at large universities across the country about NSFAS problems.
Lectures at the University of Venda in Thohoyandou, Limpopo, are expected to resume today. This follows two days of protests by students demanding better services. They also demanded that the university respond to unanswered questions about their National Student Financial Aid Scheme (NSFAS) funding.
When GroundUp left the area on Tuesday, roads outside the university were still littered with stones and other debris while police continued to monitor the area.
Meanwhile, student representative council (SRC) leaders from several universities are expected to march to the offices of NSFAS in Cape Town city centre on Wednesday. Participating institutions include University of Cape Town, University of the Western Cape, University of Pretoria, University of Free State, University of Limpopo and Nelson Mandela University among others.
In Thohoyandou students told GroundUp that they handed a memo to university management two weeks ago, but have not received a detailed response.
Their demands pointed out that the university was withholding students' certificates due to payment disputes with NSFAS. They also complained of unreliable internet and water shortages on campus. They also want more lecturers to be employed, among other things.
A first-year education student, who asked not to be named, said: "I'm worried that since last Tuesday there were no lectures because students were graduating. This week students are protesting and there's no lectures. I feel the university should address the students' demands immediately so lectures can resume."
According to Gundani Lloyd Tshamano, SRC president, besides students' issues regarding NSFAS, there are serious shortfalls with the institution's academics such as too few lecturers for some modules.
In response to this, the university has since approved the rescheduling of some modules to the second semester and plans to hire new lecturers.
University spokesperson, Takalani Dzaga, advised NSFAS students who do not have their certificates to contact the Financial Aid Office for assistance. Dzaga said most of these students had received their certificates during the May 2023 graduation.
"In response to the water crisis, the university drilled over eight boreholes. There are new buildings which necessitated the need to increase water storage capacity. The process to increase water storage capacity should be done in compliance with the university procurement policies. During the meeting on 13 April 2023 with the SRC, management committed to advertise the tender. The tender was advertised and will close on 29 May 2023."
On the internet issue, Dzaga said the university plans to install more access points at residences with poor connectivity by 2 June. "We are also building two new towers to enhance connectivity and the anticipated completion date is 15 June 2023. For students staying in newly accredited off-campus residence, wifi connectivity is to be finalised by 29 May 2023."
NSFAS did not respond to GroundUp's repeated requests for comment.