Department promises new school after protest by fed-up learners
Plans for new buildings for Eyabantu Senior Secondary School are underway, says spokesperson
4 August 2022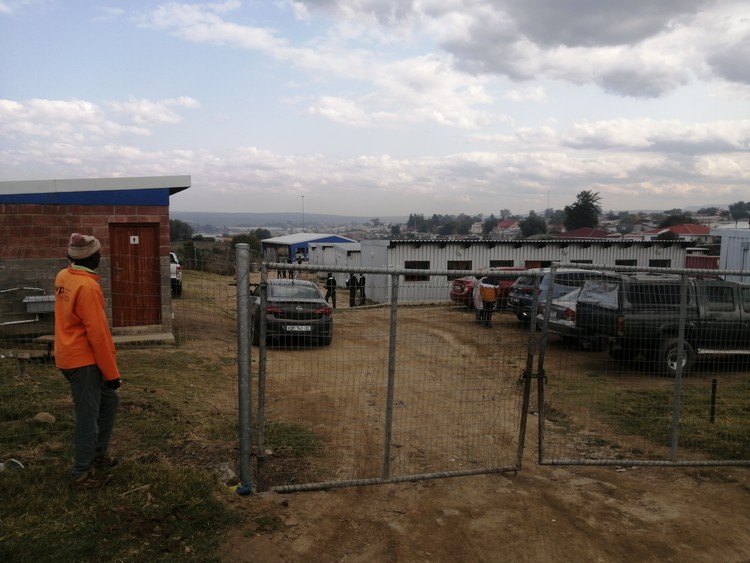 Plans for a new school building for Eyabantu Senior Secondary School in Fort Beaufort are underway, the Eastern Cape Department of Education has promised.
This follows a protest by learners, mostly matriculants, at the school on Tuesday. They marched to the department's office demanding that the R39-million construction project for a new school building be completed and complaining about maths teaching.
Last month, GroundUp reported that 451 learners at Eyabantu are crammed into 12 tiny temporary classrooms while the site of their new school has been abandoned by the contractors since March 2020. The contractors said that they left because the department had failed to pay.
The old badly dilapidated school building was demolished in 2019 with the understanding that a new school would be built soon after. But three years later, the site remains abandoned.
On Wednesday, principal Mthetheleli Fosi refused to comment on the learners' protest, saying "it is an internal matter". The school gates were locked.
A parent who asked not to be named, said parents supported the learners' decision to march "because the principal does not care about the construction of our school". She said that the current conditions affected learners' ability to learn.
"My daughter is in matric and her results are very poor. Even last year our matric results were poor," she said.
"Our children's future is bleak. The learners asked the officials to come to the classrooms and feel the pain of studying in cold and overcrowded classrooms. They also wanted to know when the rebuilding will be completed. But they did not get answers."
Bongani Hani, SGB chairperson denied any involvement in the learners' march, but said parents and the community supported them. "It's been three years and there is no clear direction about the construction of this school. What more should these children do in order for the department to finish this project?"
Malibongwe Mtima, department spokesperson, acknowledged the march by learners, particularly the matriculants asking for help with maths. "Arrangement was made by the district for these ten learners to be incubated at Thubalethu High for catch up. They will be joining Thubalethu on Saturday."
On progress on the abandoned school site, Mtima said, "There are plans afoot for this and the department will engage the community about them in due course."