Kalk Bay's beloved buskers
Some have been playing music on these streets for 20 years
5 June 2023
As a child, Vanessa Solomons would listen to the birds tweeting outside her window in the morning. Lying on her bed in Manenberg, she would whistle with them. Today she is one of the many buskers working along the Kalk Bay main road. She plays guitar, and whistles the melodies of popular "old school" songs, as she calls them, by The Beatles and Simon and Garfunkel.
Growing up, Solomons and her brother started their own band with instruments they made themselves. She says she built a guitar using a polish tin, nails, wood and gut. Her brother made a bass guitar from a wooden box, rope and a broom stick. They jammed together. She says that her inspiration for music came from her father who played guitar and loud music in their home.
Now 59, Solomons has been busking in Kalk Bay for 11 years. "The whole Kalk Bay knows me," she says.
She can be found whistling with her guitar under the tunnel that leads to the Brass Bell restaurant. She says she chose this spot because of the echo. The streets are too busy, she says. "I'm a whistler; the sound must travel," she explains.
She says that she tries to come here daily from 8am to 5pm. "My music is my career. This is my only income."
Solomons earns about R300 a day, depending on pedestrians.
"For winter it is very difficult," she says, as there is less foot traffic and it is very cold. Living in Westlake, it costs her R52 to travel to Kalk Bay and back home daily. Solomons says she loves busking and music "uplifts your spirit".
According to the City of Cape Town's by-laws, no permit is needed to perform on public land, but there are some limitations. The performance must not be dangerous, involve animals, or last more than 45 consecutive minutes. After 45 minutes the busker must move to a different location. Buskers are also expected to respect those around them regarding noise levels.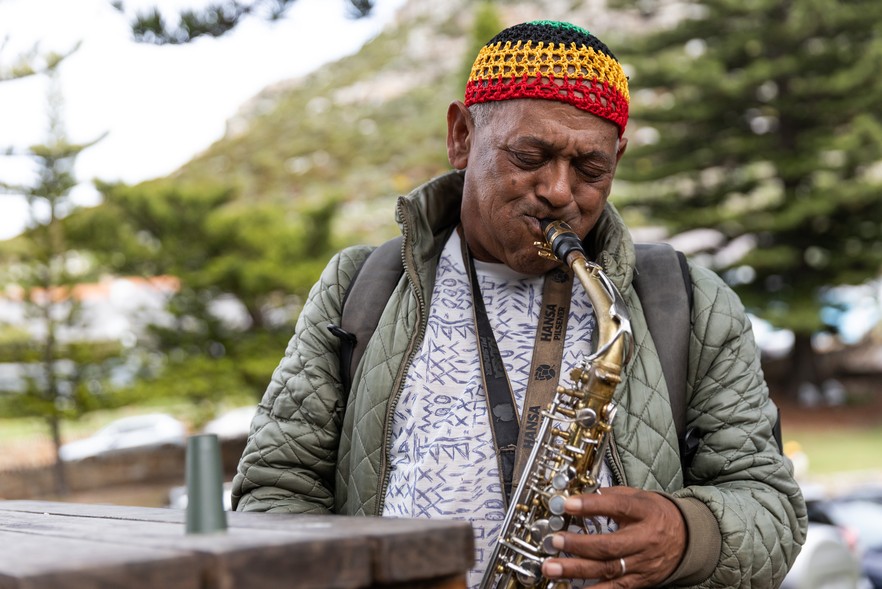 Sixty-year-old Melvin Dirks has been playing the saxophone for most of his life and has been busking for about 30 years. He has performed in Simonstown, Stellenbosch and Franschhoek. Dirks says that he only comes out on the weekends and arrives with his saxophone anytime after 10am and leaves on his own time. "I can't put any stress on me," he says.
He says he started playing after hearing his uncle play. He was only nine years old.
"I'm a natural musician. When I picked up this saxophone I didn't have any knowledge, but I played," he says.
On a good day, he says that he can earn up to R1,500, but following the Covid pandemic things have got worse. He says that he now earns about R300 to R400 a day. Dirks lives with his wife and children in Pelican Park. It costs him R64 to get to Kalk Bay and back.
In many years of busking in Kalk Bay, Dirks says, he has never had issues with law enforcement or with other musicians. He says that the performers decide together where to stand.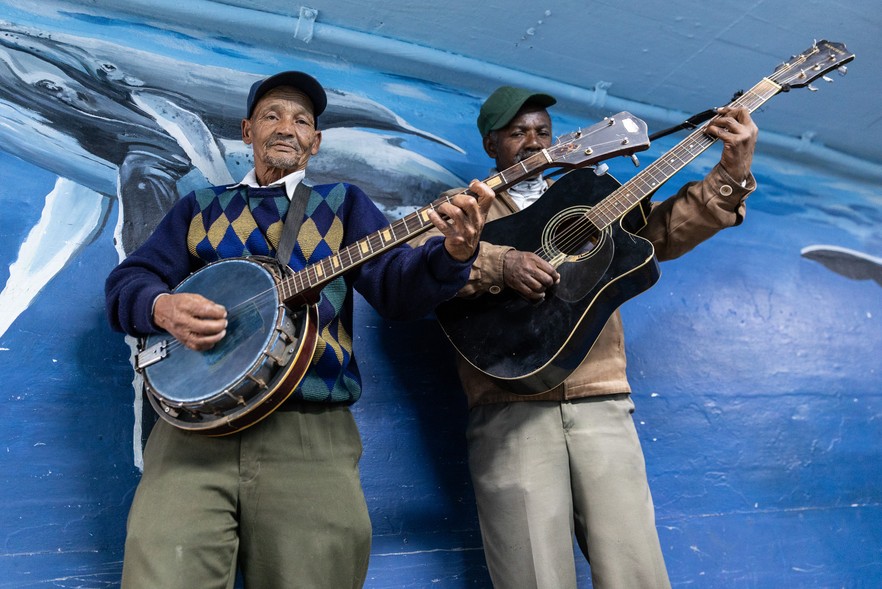 Edward Kraak and Abram Eiman are known as The Couplings. They play guitar and banjo, also under the tunnel leading to the Brass Bell. They say they play "Cape Town Style".
Both in their 60s, they have been playing together for half of their lives. They come to perform in Kalk Bay on the weekends and have been doing so for 20 years.
Kraak says he started playing guitar when he was six years old. He was inspired by his father who played in the minstrels.
He says the tunnel is a "goldmine".
"I come out to get extra income," says Kraak.
Eiman, on the banjo, says he works three days a week as a gardener and does this for extra income. He learned to play the banjo on his own, he says.
Together, The Couplings make between R50 and R600 a day, which they split. Kraak says they never ask directly for money; they just "play music".
The only bad experience they've had was someone stealing their basket of money. "We thought it was a joke," he says, laughing, but the thief never came back.
To assist buskers, there are two programs running in Cape Town. The City has its own annual buskers program whereby buskers on the City's database are invited to learn more about busking. Another is the Beyond Busking Project. This is organised by the Cape Town Arts Festival and was launched in 2022. Its aim is to give buskers an opportunity to perform on stage and be celebrated. Successful applicants are then provided with training on how to perform live and are given free studio time.
"Our main focus is to elevate them and to upskill them … to eventually go on to a big stage," said Yusuf Ganief, CEO of the Cape Town Arts Festival. He said that last year six buskers joined the program. They were trained and all recorded music professionally in a studio.