"I look at my horse and I feel well"
An in-depth look at the changing face of traditional horse racing in the Eastern Cape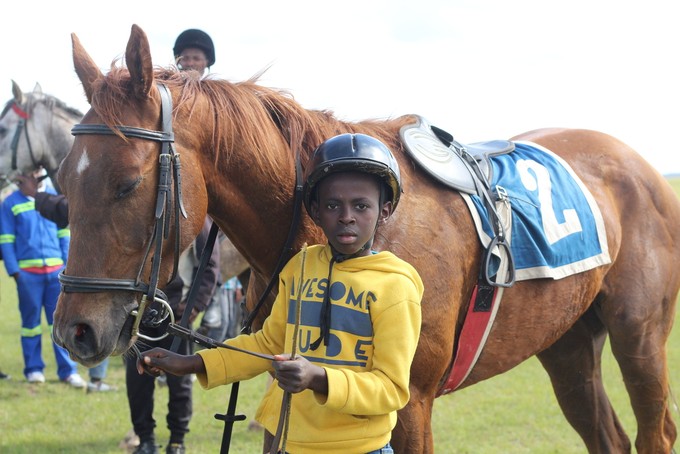 1 November 2016
Siyawandisa Gibson, 11, started racing indigenous horses when he was seven years old. In October at the Eastern Cape Amateur Horse Racing Association Championships near Butterworth, he won two of the eight races, riding both an indigenous horse and a thoroughbred.
The boy's father, George Gibson, 38, said he started racing at a similar age to his son. "My grandfather also raced, and he inspired me and taught me just like I have inspired and taught my son," he said.
Mr Gibson helps care for and train both of the horses his son raced at the Championships, though he is not their owner. He was also one of the main race officials at the event. It is not unusual for those involved in traditional horse racing to wear many hats.
"I have a very personal relationship with the horses," Gibson said, "they're like people to me."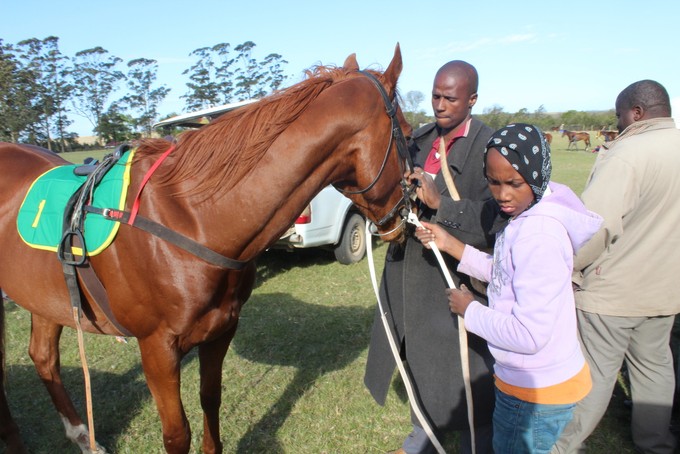 Vuyisa Mjikeliso, 37, the owner of Remember, one of the winning horses, said horses, like people, required a lot of care and attention. This is a costly endeavour, he said, as is ferrying them all over the province to compete.
Mjikeliso's win at the Championships would at least see him go home with a few thousand rand in profit, courtesy of the SA Racing Trust, who sponsored the event.
To be able to compete in the three most lucrative races of the Championships, the horses must have participated in the previous two race days of the calendar.
"The government must contribute more sponsorship to make the sport more sustainable. It takes a lot of money to compete," said Mjikeliso. More financial support from local government would also help owners to look after their horses better.
Sivelele Matumbu, 32, was less fortunate on the day. One of the two indigenous horses he owns tripped and fell in the first race it and appeared to be limping afterwards. The jockey, Matumbu's younger brother Mawande, 15, was unharmed.
Matumbu and his brother had travelled from Ntecentane, 30km away, and Matumbu estimated that the outing would have cost him at least R500 for the entrance fee and petrol. His fallen horse, Balibele ("they forgot" in English), had cost him R8,000 a few years previously.
But despite all this expenditure, Matumbu professed a deep love for horses and for the sport, which he said was shared across a number of generations in his family. As a boy growing up in the area, he had always looked forward to the weekend race days.
Matumbu said, "The infrastructure at events must be improved. There should be fixed stadiums with ground that is more even and fixed facilities." He also felt government needed to play a bigger role in developing the sport.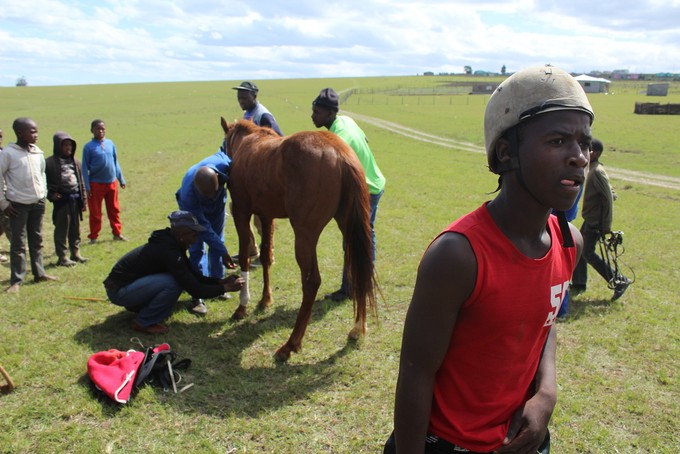 Dressed in traditional regalia, Fikile Mkothane, 54, was one of just a handful of women present at the event. She agreed that "proper stadiums" with better infrastructure were required and that traditional horse racing needed to be recognised by the government as a registered sport.
Mahlubi Puzi, 58, the event organiser, said, "The sport certainly needs development. Firstly, with regards to capacity-building of the horse owners and trainers, so that they learn how to better maintain the horses, how to look after them. This will also help to improve the image of the sport."
Puzi added that traditional horse racing should come to be seen as a breeding ground for future trainers and jockeys to enter into the formal racing sector.
This is the dream that Gibson envisages for his son Siyawandisa. "I want him to compete on the biggest stage," he said. "I once saw the horse races at Kenilworth [the main racecourse in Cape Town] when I was a boy. I want to see my son racing there."
But Puzi cautioned that lofty aspirations with regards to the development potential of traditional horse racing needed to be carefully guided by those involved on the frontlines of the sport.
"We don't want the sport to lose its essence, which has been established over so many years," he said.
Puzi fears that the increasing commercialisation of the sport through major new corporate-sponsored events like the Berlin November is already creating a shift whereby "the love of the horse, the passion for the animal is fading, and it's becoming more about how you can use the horse to get money."
For Puzi, whose horse Pilato won one of the championship races, the passion remains as strong as ever. "If there is anything that I am not feeling good about, I look at my horse and I feel well. It's a special relationship that exists between the horse and the owner. I will go to bed without having food, but if my horses are well fed, I will be happy."