How to achieve a 100% matric pass rate in one of the country's poorest areas
Independent no-fee school Bulungula College is the first in Elliotdale's history to achieve 100% pass rate
26 January 2023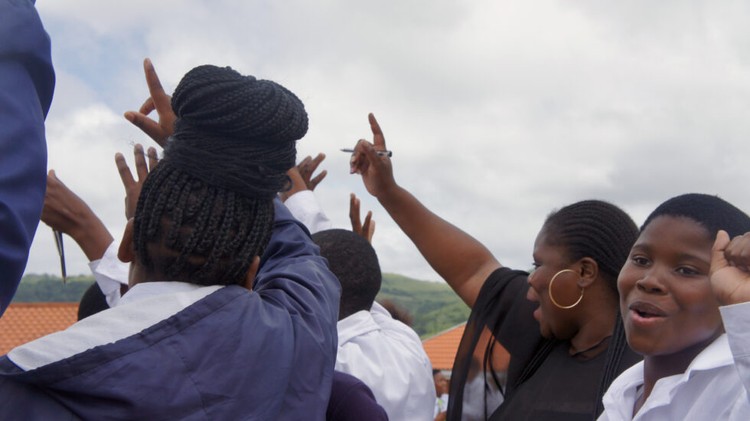 Students at an independent no-fee high school in an impoverished Eastern Cape region have achieved a 100% matric pass rate.
Over the past 15 years, only 5% of public school learners in the area passed matric.
Top learner Ikho Dyomfana received six distinctions and will be attending Rhodes University this year.
Bulungula College, an independent no-fee school in rural Eastern Cape has become the first school in the Elliotdale Education District to achieve a 100% matric pass rate. The 36 learners in the class of 2022 are the school's second matric cohort. 58% of the learners achieved a bachelor's pass.
Last year GroundUp reported on the non-profit Bulungula Incubator, which is bringing quality education to one of the poorest areas in the country. Bulungula College is one of the incubator's projects and offers grades 10-12 as well as a Job Skills and Entrepreneurship Programme (JSEP).
When Bulungula Incubator was founded in 2006, only one parent in the local Xhora Mouth community had passed matric. Bulungula Incubator data from the last 15 years shows that an average of six people from the community matriculate each year, and 95% of school learners from the area do not pass grade 12.
The norm for public schools in the area is to dissuade underperforming students from writing matric in order to achieve a higher pass rate. But Bulungula College does not subscribe to this practice and enrols any eligible learner from the Xhora Mouth area.
The perfect 2022 pass rate was a significant improvement from the previous year's 64% pass rate (two of the learners that failed that year passed after rewriting their exams). Many of the students who enrol at Bulungula College have huge gaps in their education, due to lacklustre early childhood and primary school education.
"Our strategy was to learn from our 2021 matric class," says Bulungula College's principal Mthandwa Sincuba. "From the beginning of the year, we started with extra classes from 6am until 9pm. We also had weekend classes."
"I am proud of my learners, staff, parents, community and district officials for making history in our district," Sincuba said.
Bulungula College takes a progressive approach to discipline with a strict policy against corporal punishment. Learners from child-headed households or families that struggle to provide adequate nutrition are identified and assisted. Birth control injections are offered to all girls, while girls who become pregnant are encouraged to stay in school before and after they give birth.
The college also provides career guidance and supports learners to access tertiary education. The JSEP offers a range of courses for learners to become more employable.
Ikho Dyomfana was the top-performing student in 2022, achieving six distinctions. She will be studying accountancy at Rhodes University this year.
"I achieved these good results because I was disciplined and focused on my studies. I minimised the playing time and spent more time on my studies," Dyomfana told GroundUp.
Achumile Siphofana, who lost both her parents in 2016 and moved to Xhora Mouth to live with her aunt in 2017, also achieved six distinctions. She has received a full scholarship from NinetyOne's Change Blazers programme to study education at the University of Johannesburg.
"I stopped wasting my time on social media chatting with my friends and focused on my studies," Siphofana says, "I made the teachers my best friends and spent most of my time studying and revising the old question papers. Study groups and discussions helped me a lot."
Another top achiever was Ezintle Zintoyinto, who was the only learner in Xhora Mouth with a parent who had graduated high school. "My mother works at one of Bulungula's Early Childhood Development Centres," she said. She will be studying engineering.