Hout Bay residents call for solidarity with Hangberg
Solemn protest on International Day of Peace demands housing and fishing rights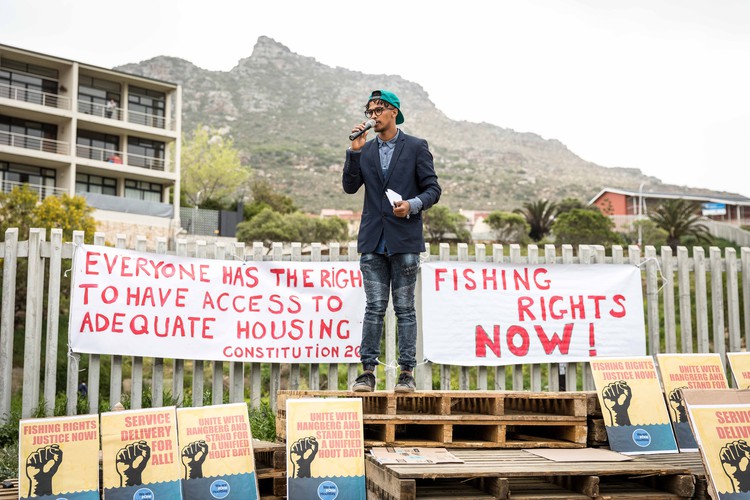 22 September 2017
On Thursday afternoon, International Peace Day, about 200 residents of Hout Bay met at the foot of Hangberg to express solidarity following violent clashes last week with police. Speakers delivered messages of peace but also expressed their determination to stand against government's inertia on housing problems and the restriction of fishing quotas.
"We, the people of Hout Bay, stand in solidarity with the Hangberg community as they seek answers to the ongoing and unacceptable housing and fishing rights situations, as we do with Imizamo Yethu community through various initiatives," stated a memo that was read out to the crowd by Eddie Thompson, one of the organisers of the meeting. (Hangberg is a predominantly coloured neighbourhood in Hout Bay, while nearby Imizamo Yethu is a predominantly black one.) 
The memo called for the City of Cape Town to explain why some houses in the Hangberg Informal Development Area had services, but others not. It called for an immediate "needs analysis" of the township's housing situation. The memo also criticised the delay in housing apartments that, residents claim, were supposed to be built in Hangberg. 
The memo called for access to "traditional fishing grounds". It recognised that the national government has the responsibility to regulate fishing, but accused the Department of Agriculture, Forestry and Fisheries of "failing to provide answers and attend community meetings."    
Thompson said he has been fighting for more than 20 years. He recalled how in 1996, he took part in demonstrations in the same streets to fight the same problems.
A petition was also passed around the crowd, calling for support for local fishers in their fight against the current quotas.
Read page 1 and page 2 of the memo.