Couple to receive a house after 50 years in a shack
Plan for 180 houses to be built in Pella, near Atlantis, within 12 months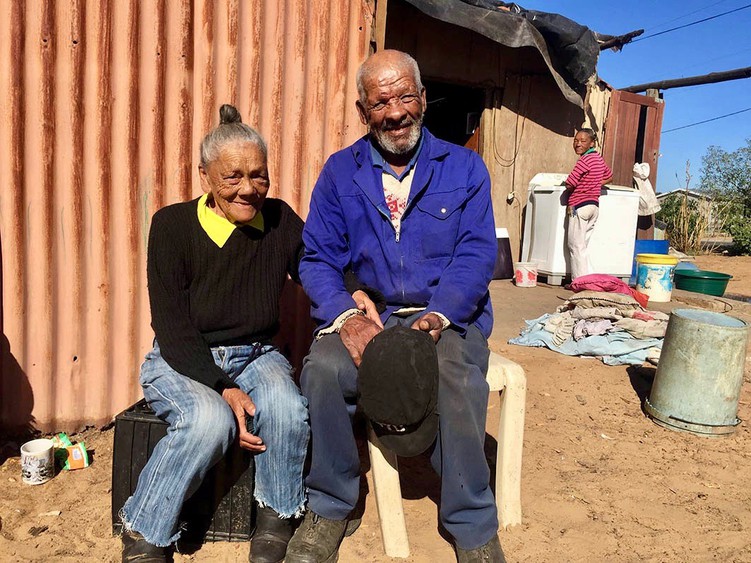 1 June 2017
Georgina Boois is 75 years old and a grandmother of 15 children. She has lived over 50 years of her life in a two-bedroomed shack. She lives with her husband Opua Hermanus, aged 70. Soon, she hopes, she will have a proper house of her own, now that a R20-million People's Housing Process (PHP) has been approved to build 180 houses in Pella, a town just north of Atlantis.
The PHP is the first of its kind in this rural town. A contractor has been appointed and has already established a working site.
Proportional Representation Councillor Fiona Abrahams (ANC) said she initiated the project in 2011 and submitted an application to the City for funding. Soon after, the Community Rural Development Program (CRDP) in Pella took over, deciding not to wait for the outcome of the application, but to speed things up by going ahead and submitting plans for approval.
Abrahams said that the houses are going to be built on the property of the beneficiaries. "They already have title deeds. Their plots are between other houses. So it's not going to be RDP houses."
She said the beneficiaries were being helped by the Finance Linked Individual Subsidy Programme, a government programme that helps first-time buyers in the property market who earn R15,000 or less per month.
"We need to get financial institutions involved to subsidise beneficiaries that do not fully qualify for the full PHP," she said. These are people who earn too much to qualify for a full subsidy, but not enough to qualify for a bond from a bank.
CRDP Treasurer Elize Appollis said, "Most of the beneficiaries of the housing project are very old and they are currently living in appalling conditions. Winter will go into full swing soon, and we really hope the first batch of the houses are completed in time for beneficiaries to move in before winter heavy rains."
"Some children of the beneficiaries cannot believe that they will have their own bedroom, not sharing with parents, and that they will relieve themselves in toilets inside the house," she said.
Boois said she was looking forward to a flush toilet. All these years, she has had to go outside to relieve herself. She said her shack was very cold and leaked badly when it rained.
Charlie Fries of Lawula Projects Pty Ltd, the construction company, said the houses will measure 42 square metres each and comprise two bedrooms, a toilet, a bathroom, and an open plan kitchen leading to a lounge.
"We will start building the [first] 24 units anytime from now … We estimate to complete building the total housing units in a year's time if everything goes according to plan," said Fries.
He also said they would source labour locally.
Mayoral committee member for transport and urban development Brett Herron said the Department of Rural Development and the City of Cape Town were providing the funds for service infrastructure such as roads, water and electricity.
He said the land previously belonged to the Moravian Church, but the residential erven had been transferred into the names of Pella residents who qualified. The public open spaces have been transferred to the City of Cape Town and the business sites remain the property of the Moravian Church.