PE refugee centre remains closed in defiance of court order
Applications from new asylum seekers should have been accepted from 9 February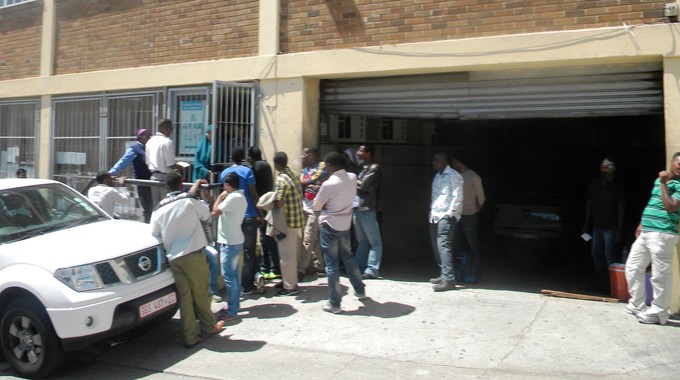 19 February 2016
The Port Elizabeth Refugee Reception Centre is still closed to new applicants despite a recent court ruling ordering the Department of Home affairs to open the offices by 9 February.
Last year, the Supreme Court of Appeal ruled in favour of the Somali Association of South Africa, the Project for Conflict Resolution and Development (PCRD), and Lawyers for Human Rights, who had petitioned Home Affairs to reopen the centre.
These organisations dragged the department to court after it unilaterally shut down the office in 2011.
At the time of closing down the centre, the director general, Mkhuseli Apleni, explained that the centre's lease agreement had expired.
A decision had also been taken to only open refugee reception centres at strategic ports of entry. Port Elizabeth was not a point of entry.
Michael Bendle, director at PCRD, which works primarily in the Eastern Cape, said, "It seems the Department of Home Affairs is disregarding the court order by not re-opening the centre. They are trying to buy time while innocent refugees and asylum seekers are struggling in the streets."
Linton Harmse, director of the Refugee Rights Centre at Nelson Mandela Metropolitan University, said Home Affairs was not serious about the plight of refugees and asylum seekers.
According to Harmse approximately a hundred asylum seekers presented themselves at the PE centre on 10 February, 26 to lodge their applications for asylum. They were told the centre does not accept new applications.
This means that as a result of the department violating the order of the Supreme Court of Appeal, these asylum seekers remain undocumented.
"This leaves them in an extremely vulnerable position," he said. They can be arrested as illegal immigrants, are unable to seek legal employment, cannot open bank accounts, and will likely struggle to access social services, medical facilities and schools.
Harmse said, "Poor and resource-deprived asylum seekers face the prospect of having to travel to far off [refugee recepion centres] to lodge their applications where they are easily targeted by criminals."
Dino Jilley of Somali Association of South Africa Eastern Cape, said they did not rule out pursuing Home Affairs for contempt of court.
Saidi [surname withheld], who is 31 and from Tanzania, said, "I am just staying with no papers. I cannot go to town because they will arrest me. I was hoping that this time my application would be approved." His previous application was rejected in 2013. To survive, Hamisi set up a makeshift barbershop in Korsten CBD.
Justice [surname withheld], who is 35 and from Zimbabwe, is a beachfront informal trader. He came to South Africa in 2012. "I desperately need an asylum paper because we are harassed both by the municipal police and SAPS. We end up paying them bribes to let us free," he said.
Meanwhile refugees who were waiting outside the centre for extensions complained about the poor service offered.
Said Masid Yusuf, 38, from Somalia, says he applied for asylum four years ago. "I have been waiting here outside since the morning to have my papers returned. They took it in the morning. They don't allow us to sit inside. We have to go under a garage when it's raining," he said.
Home Affairs responds
Home Affairs denied it is in contempt of court, but would not disclose the reasons for holding this view, nor share the reasons for why the reception centre could not be reopened.
The following response, quoted in full, was received from the Home Affairs legal department:
'It is correct that the Supreme Court of Appeal ("SCA") ordered the DHA to open the [PE Refugee Reception Office] on 9 February 2016. However, the Department was unable to do so for the reasons which the Director-General Mkuseli Apleni has provided to Lawyers for Human Rights, the attorneys acting for the Somali Association of SA, Eastern Cape, who were the applicants in the SCA matter.
We are not at liberty at this stage to disclose those reasons.
However, we can confirm to you that it is clear from the aforementioned reasons that the Department or any its officials are not in contempt of the SCA court order.
In this regard, we have instructed our legal representatives to apply for a variation of the SCA court order as a matter of urgency, and our reasons for doing so will appear in such application.'