Habib commits to securing Wits
Apologises to university for protesters disrupting Braamfontein campus yesterday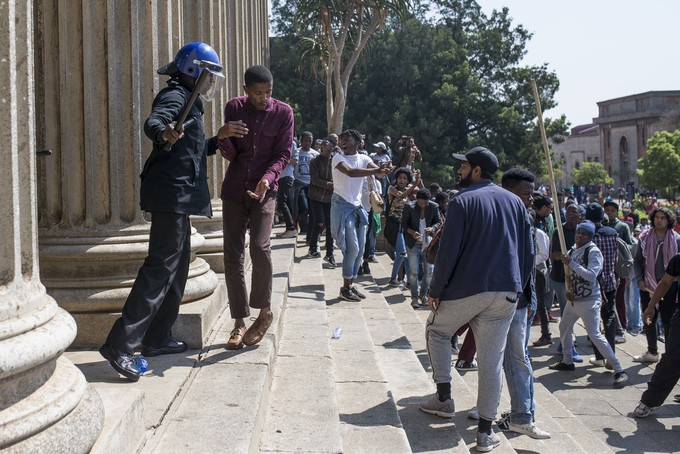 4 October 2016
Wits Vice Chancellor Adam Habib has apologised to his staff after they were forced to go home yesterday when a small group of protesters entered offices at the Braamfontein campus and intimidated them.
In a letter sent to faculty members after 9pm last night, Habib said he had met with about 500 students to discuss a way forward, when "splinter groups" had forced some staff to vacate their offices and laboratories.
He said while security guards were able to contain some of the groups, they were not able to get to "the smaller groups that moved through buildings" and intimidated staff members.
"I write to you to apologise for the disruptions that unfolded on our Braamfontein campus today. You trusted our judgment and reported for duty, and we let you down," he wrote.
"Over the weekend, students and staff expressed great concern about learning in a 'securitised' environment with police guarding lecture halls. It is for this reason that we scaled down our security for today (Monday) and requested the police to move to the campus perimeter. However, given the harassment of some staff today [Monday], I am left with no choice but to open tomorrow with a full security contingent throughout our campuses."
Armed security and the police are expected on all campuses and inside buildings today. Habib said no meetings would be allowed will be allowed in Solomon Mahlangu House and that criminal and disciplinary action may be applied to anyone caught contravening the University's rules or court interdict.
One staff member, who asked not to be named for fear of reprisals, said: "There was a student meeting in Senate House at 11am. When that ended at about 1:15pm, most staff left campus because some staff were being intimidated by a few protesters and things were getting hectic."
She added: "When I drove out of the main gate, the private security were suiting up in riot gear with helmets and riot shields. The police were waiting just outside the campus gates."
GroundUp also saw an email with the subject line: "Please send staff home" that was issued by a Faculty Dean.