Growthpoint loses court case against Reclaim the City
Judge refuses application for final interdict against occupation of controversial land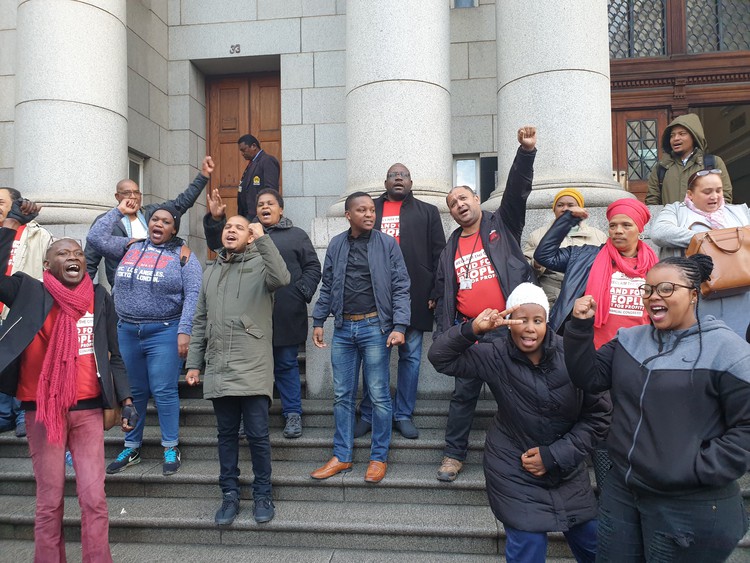 28 June 2019
Social justice organisations have hailed the judgement in the case brought against them by property developers Growthpoint Properties as a victory.
In the Western Cape High Court on Friday, Judge Judith Cloete discharged with costs Growthpoint's application for a final interdict against Reclaim the City (RTC).
On 4 December, RTC, supported by #UniteBehind and the Social Justice Coalition (SJC), built shacks on vacant land known as Site B on the Foreshore in Cape Town. This was to protest the sale of the land by the City of Cape Town at what they said was less than its value.
Site B had been sold to Growthpoint in 2016 for R86.5 million. RTC says this was below the market value for the company's proposed 6,000m2 development.
Growthpoint applied for an urgent interdict against the occupation, which was granted the same day, barring the protesters from entering the premises.
The court reserved judgment on 3 June, extending the interim interdict in the meantime.
RTC, #UniteBehind and the SJC say the interdict was issued without notice to them and that Growthpoint failed to disclose the fact that it knew they were activists, describing them as land occupiers rather than protesters. They asked the court to uphold the constitutional right to protest.
On Friday, with the courtroom gallery packed with activists, Judge Cloete discharged Growthpoint's application for a final interdict.
Activists sang and danced outside court, shouting "Amandla", and raising their fists in the air.
Head of the Ndifuna Ukwazi law centre, Disha Govender said, "Today is a really good day, it is definitely a win."
Activist Nkosikhona Swaartbooi said, "Today is a happy day for us as the working class. Growthpoint Properties has money and they used their money to get an interdict. But we have challenged how they got that interdict."