"Glitch" with invoice delays R34 million Bhisho memorial centre
Department of Public Works did not pay engineers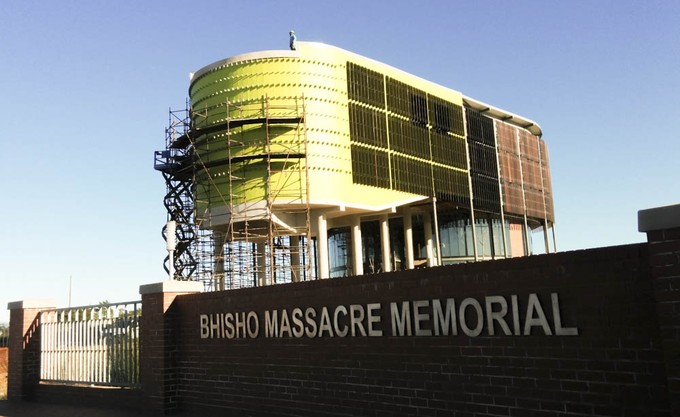 28 July 2016
More than three years after construction started, the R34 million memorial to the 29 people who were shot dead in Bhisho in 1992 is still not complete. One reason for the delay is the failure by the Eastern Cape Department of Public Works to pay the site engineers for six months.
The memorial in Amatola View, designed to serve both the local communities and visitors to the heritage site, is to contain a conference centre, exhibition spaces, a library, reading spaces, a multimedia centre and a bookshop.
It is to be a memorial for the 29 people who died when Ciskei Defence Force troops fired on protesters during a march in Bhisho on 7 September 1992.
The original 2009 budget of R22.79 million was later raised to R34.6 million. So far R26.7 million has been spent.
The building was started on 15 January 2013 and was due to be completed by 5 February 2014. But, according to Mpumzi Zuzile, spokesperson for the Public Works department, construction was delayed by the suspension of services by the consulting engineers as a result of late payment by the department", late delivery of specialised materials such as steel and windows, and "adverse weather conditions".
Rob Inglis from Element Consulting Engineers which was contracted to do the job said: ''They wouldn't pay us for six months so we moved off the site. They called us back saying we must come back, and they paid us.''
Asked why the engineers had been paid late, Zuzile said: ''The department deals with a thousand invoices. It happened that this was an event where a glitch was made on the invoice.''
Asked about the other delays, he said: "When ordering material there is always a long delay with the orders. Maybe sometimes the people you order from do not have stock at their disposal at the time. So this was the case with the building."
The delays have disappointed students in the area who have to go to the library in King William's Town since there is no library in Bhisho.
Nkosikhona Liwani, from Zameka Junior Secondary School in Tyutyu North in Bhisho, said: "It would be great if they speed up the process."
"Before the holiday, we were given research to do at school. We didn't have the relevant resources. We went around Bhisho looking for resources to do our school work but we couldn't find any."
Parents complain that they cannot afford taxi fare to send their children to the King William's Town library.
Lungiswa Zinzile, mother of a 16-year-old boy who is a scholar at Z.K Matthews in Balasi in Bhisho said: "They are already walking a long distance to go to school since they don't have taxi fare. They can't afford to go to King William's Town to the library."
"The department is making all efforts to get this project completed through many difficult and challenging circumstances," said Zuzile.
He said the building was 80% complete.