Fifty to a toilet in Pietermaritzburg
Resident says she's been voting since 1994, but it has brought her nothing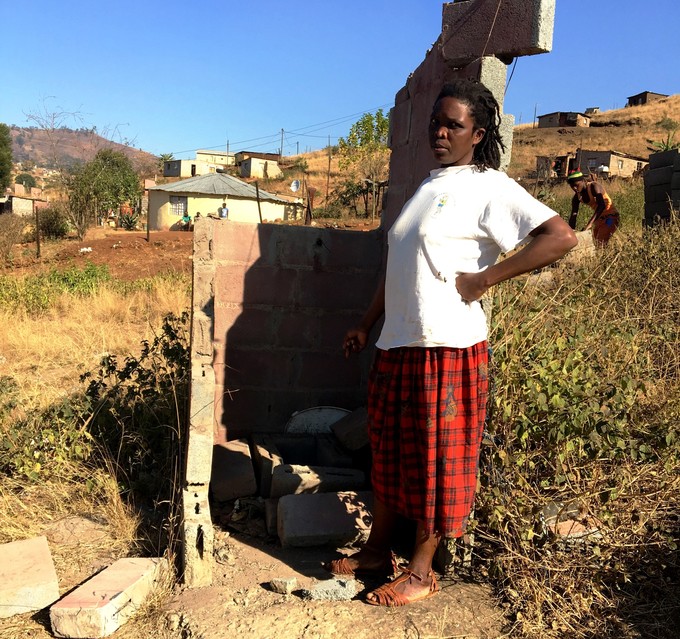 22 July 2016
For the last five years, more than 50 residents of Gudlintaba in Pietermaritzburg have been using a single toilet in the ruins of a building. The walls have all but collapsed and there is no door. The toilet doesn't even have a fitted seat. Children as young as five use it. And the ward councillor says it's the first he has heard of it.
The outside toilet belonged to house owners who left five years ago. To make a seat, the community gathered building blocks from a nearby house that had been vandalised.
There are no communal taps nearby. Residents rely on the services of a water tanker.
"We don't worry about hygiene anymore. You hear people worrying about getting sick. We cannot be exposed to germs, we are germs ourselves," Thandi Nzuza says pithily.
Nomalungelo Nzuza, 25, says, "Any kind of people use the toilet, even drunk men … But I have no choice. The only toilet available is this one."
For over a decade, Nzuza and her family of five have been sharing a bed and living in a one-roomed mud house with a single window. The door has no lock. The roof leaks when it rains. There are holes in the front wall of the house. The floor is not covered in cement and gets muddy when it rains. They live in fear the house will collapse in the rain.
Residents complain that their ward councillor, Sipho Madonda, does not do his duty.
"Our ward councillor is like the wind; he is not visible," says Nzuza. "I used to attend community meetings hoping that would better our lives, but that has not happened. I've been voting since 1994, and what do I get from that? Nothing."
Madonda said he was not aware of the matter. "It's the first time I'm hearing that there are people sharing one toilet. I have also never been informed that there is a family that lives under such bad conditions. They must contact me and I will see what I can help them with," said Madonda.