Eastern Cape municipality goes to court to block protest
Protesters are complaining about sewage, rubbish collection and water supply
15 February 2023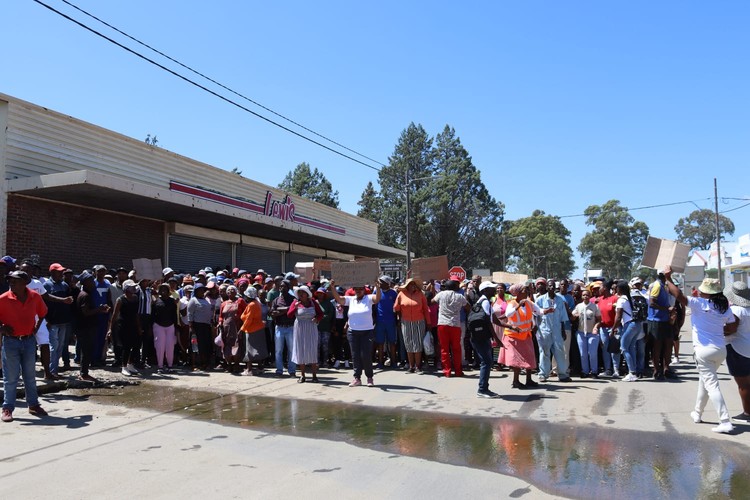 The Grahamstown High Court has granted an interdict against further disruptive protests in Indwe in the Eastern Cape.
The Emahlahleni Local Municipality said in its court papers that in protests which have been going on since January the protesters had insulted municipal employees and removed them from their offices.
However the protests resumed last week.
Protesters say they want the municipality to fix the ailing water and sewerage systems.
The Emalahleni Local Municipality has been granted an interdict against protesters who blocked streets of Indwe in the Eastern Cape complaining about water, rubbish collection and sewage.
The protests in the small town outside Komani (formerly Queenstown) started in January and were interrupted last week while protesters tried to get Eastern Cape Premier Oscar Mabuyane to intervene and to visit the town.
In its application to the Grahamstown High Court, the municipality said during protests in January, municipal operations had been disrupted, municipal workers had been insulted and removed from their offices and the municipal offices had been closed down. The municipality had sent workers home out of fears for their safety.
The court granted an interim interdict on Monday banning protesters from engaging in acts of "serious violence" and intimidation of municipal employees, from stopping employees from working, from carrying dangerous weapons to intimidate municipal employees, and from victimising people who did not protest. The return date is 7 March.
However the protests resumed on Tuesday. Protesters told GroundUp that for four years they have been experiencing water cuts, while rubbish has not been collected and sewerage systems are broken. They said they raised these issues with both Chris Hani District Municipality and Emalahleni Local Municipality with no luck.
Community leader Mandla Cetywayo, who was named in the interdict application, said the Emalahleni local municipality is planning to install toilets for R3.46-million but residents don't want toilets, they want the money used to fix water and sewerage problems. He said the water supply is erratic and sometimes households go without water for weeks.
However, Emalahleni Local Municipality spokesperson Luthando Nqumkana said sewerage and water issues are the responsibility of the district, not the local, municipality. Nqumkana said residents had agreed on the toilets after a series of imbizos with the community. The council had approved the final budget including R3.46-million for 16 toilet units.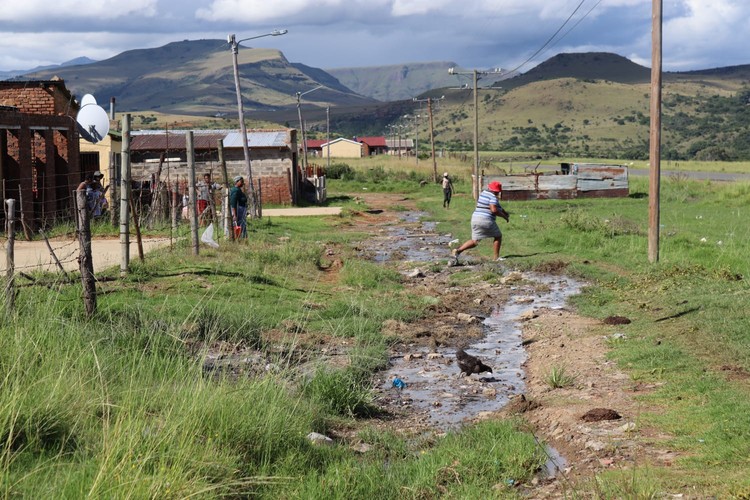 The Chris Hani District Municipality mayor, Wonga Gela, said the municipality was working on the water problem at Indwe. He said loadshedding had made it difficult to pump water from Doring River Dam to residents' taps.
On Tuesday morning protesters closed all the shops in town and children were forced not to go to school. Only health facilities were allowed to operate.
Community leader Thabo Khethi said for the past four years they have been begging the two municipalities for help. "Before the protest we had a number of marches to Emalahleni as our local municipality since we saw that Chris Hani was failing. The last march was in December. It was after our mayor Nontombizanele Koni introduced a [multi-million rand] toilet project. We asked her not to build toilets, instead to assist in solving this water problem," said Khethi.
He said Koni promised to take the matter to a council meeting and report back to them.
Khethi said while they were waiting for the report-back, they heard that a ward committee member was hiring people to work on a toilet project. "That angered the community because we don't need those toilets, we need water," he said. "Our request to Emalahleni is very simple: use the money for toilets to fix the real problems we are facing. We need water. I don't understand what is so difficult for two municipalities led by one political party to work together to solve the problem faced by people who voted for them," he said.
"They are failing us, including our ward councillors and their ward committees. We are now calling on Premier Mabuyane to come and force them to work together. We can't continue living like this," he said.
While residents were chanting, carrying placards, on Tuesday, MEC Nonceba Kontsiwe who is the "District Development Model Champion" for the Chris Hani District Municipality, arrived.
She was accompanied by Mayors Gela and Koni.
Kontsiwe told residents that Mabuyane had sent her to listen to their grievances.
She wanted the meeting to be held inside a community hall but residents refused, saying she should also experience the smell of sewage in town. After listening to protesters' grievances she said she would take the grievances to Mabuyane and promised he would visit the area in seven days.