Eastern Cape health workers warn about staff shortages
2,700 contracts not being renewed by health department
25 January 2022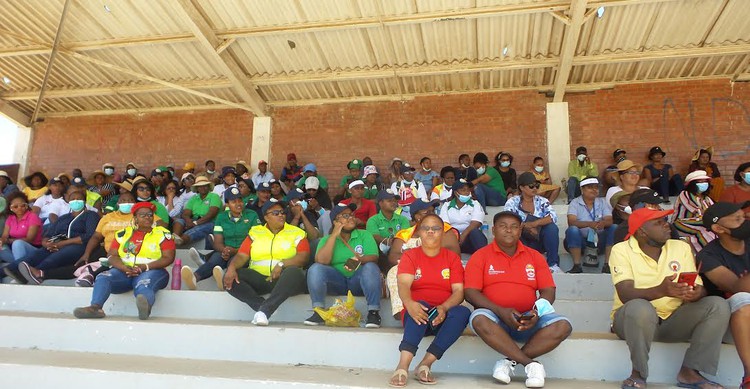 Eastern Cape health care workers whose contracts were not renewed last December have warned that this will put pressure on already stretched permanent staff.

About 100 workers affiliated to the South African Federation of Trade Unions (SAFTU) met on Sunday at Dan Qeqe stadium, Gqeberha, where they aired their grievances.
The workers were hired soon after the onset of the Covid-19 pandemic in 2020. Spokesperson for the Eastern Cape Department of Health Mkhululi Ndamase told GroundUp that the contracts of 2,749 workers had not been renewed in December, 2021. "The department would have loved to extend the contracts of the healthcare workers but this was not possible because of serious budgetary constraints. We started the current financial year with a R4.4 billion shortfall."
Affected workers told GroundUp they had received letters informing them that their contracts would not be renewed. Some will leave at the end of January and others in March.
SAFTU Gqeberha leader Mzikazi Nkatha said the failure by the department to renew contracts of health workers was affecting the morale of permanent staff who were overworked. "Our health facilities have been operating under skeleton staff even before Covid-19. We are going back to a very serious situation of staff shortages."
"The non-renewal of contracts will directly affect delivery of services to patients. We have been engaging the department but little progress has been achieved."
Spokesperson for Gqeberha-based Emergency Medical Services workers Sikho Makeleni said the situation is even worse with ambulances, with few workers available to respond to emergencies. Makeleni was hired in September 2020. "The Emergency Medical Services department is heavily understaffed. Top management don't care about poor people who use public hospitals and clinics. These officials use private ambulances and private hospitals when they get sick because they have medical aid. They are not in touch with what is on the ground."
Nomonde Fanele, a nurse and chairperson of the National Union of Public Service and Allied Workers in Nelson Mandela Bay said she knew of more than 600 workers whose contracts were not renewed. Fanele said workers wanted to meet the MEC and top management in the department of health. "We will escalate our actions if the department continues with its retrenchments."
Ndamase said the department was in talks with the office of the Premier, the Treasury and the National Department of Health in a bid to source more funding. "Engagements are at an advanced stage."
Ndamase said the department did employ workers to fill vacancies when the budget allowed. "By the end of December 2021, 575 former contract workers had been permanently employed, so when there are vacancies, the department employs."