East London taxi commuters left wet and unhappy
Municipality says it will start construction of a shelter this financial year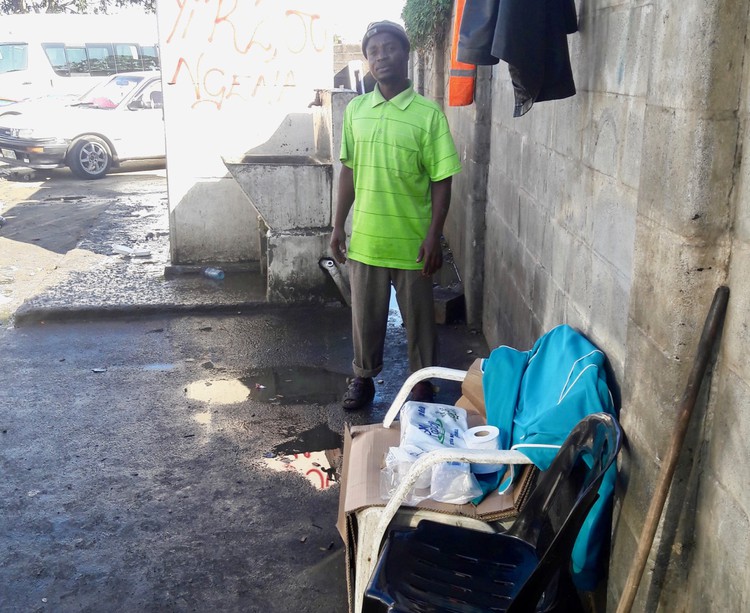 12 July 2018
Street vendors, commuters and taxi drivers at Tsholomnqa taxi rank in central East London say they have been waiting for years for the municipality to build a taxi shelter.
The Buffalo City Metropolitan Municipality says it plans to start construction on the rank in the third quarter of the financial year which runs from January to March 2019.
"When it rains, people's groceries, like flour, sugar and maize meal, get damaged and they end up disposing of them. The hawkers you see around here use plastic bags to cover themselves and their stock. Our commuters suffer the most," said taxi driver Themba Mcitakali.
"At some stage the municipality said the rank is not their responsibility as this is not their land. However, they came last year and erected four toilets, which are also not enough for all our commuters using this rank," Mcitakali told GroundUp.
Thulani Maki is responsible for cleaning the four toilets. He says the municipality promised to supply him with cleaning equipment and gear to wear while doing the job. He is still waiting.
"They even promised me a shelter, where I can sit and sell toilet paper to commuters using these toilets. Since I do not get paid, I depend on money received from selling the toilet paper. I wear my own clothes, work with bare hands and have no cleaning detergents while doing this job. It's even worse when it rains because I sit inside a toilet and work from there," said Maki.
Nokuzola Mditshwa, a vendor at the rank, said, "Commuters ask us to watch over their belongings, but when it rains you know the groceries will be damaged and you can do nothing to stop that. That is why we need this shelter." Mditshwa also complained that "there is litter all around the rank and it has gone uncollected for months".
A spokesperson for Buffalo City Metropolitan Municipality, Bathandwa Diamond, said, "With regards to the shelter for taxis, the City has designs of the shelters planned for this financial year and construction planned for the third quarter of the financial year [January to March 2019]."
Diamond said the City did clean the area, however, it was difficult to clean during the day because of the high commercial activity at the rank. He said cleaning took place o weekends even thougt this had cost implications.