Dunoon backyarders protest at civic centre
They demand land to build houses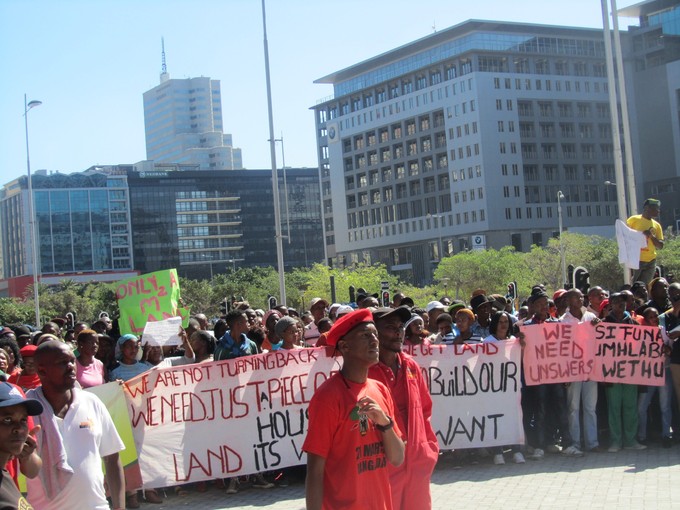 8 April 2016
The original version of this article had serious factual errors in it. We have corrected them. We apologise.
Thousands of Dunoon backyarders marched to the Civic Center to hand over a memorandum to Mayor Patricia de Lille. The community is frustrated by the lack of land for housing.
Backyarders are people who live in the yards of other people's homes, usually in shacks. They pay rent. Many of the Dunoon backyarders say they can't afford rent and want land to build their own homes.
From approximately 11:30am to 1pm the protesters occupied outside the civic centre.
This protest followed a protest that took place last month when backyarders occupied a vacant field near Potsdam road in Dunoon, but were removed by City law enforcement.
Marching to the mayor's office was the only alternative they believed the City could address their grievances.
The protesters arrived in two groups: one group by trains and the other by taxis. Most of the marchers were wearing red overalls or T-shirts with an inscription of the Economic Freedom Fighters (EFF).
"Our ward councilor has failed us. We are not going to stop protesting until our concerns are addressed," said Xolani Cekiso a community leader.
"Today we have decided to hand our memorandum to the mayor of Cape Town. Maybe [she] might understand us better. It is only the beginning of the struggle," he said.
Cekiso claims that when the ward 104 councilor Lubabalo Makaleni came to power he promised to deliver but has not done so. (Makaleni did not pick up his cell or landline when GroundUp called him for comment this afternoon.)
"I have stayed in Dunoon for 12 years and I have not seen any development. The councillor always promises us that we will get vacant land to build our own shacks but to no avail. So today we have come to the City for help," said a 42-year-old woman who did not wish to give her name.
She stays in a backyard room with her four children but says she can no-longer afford to pay rent every month.
"I pay R550 rent excluding electricity. I don't work most days so it is very hard for me," she said.
The marchers' memorandum demanded:
land to build their own houses,
improved services to make Dunoon a better place to live, and
improved infrastructure that included roads.
It was read and handed over to Elgan Fortune, a community facilitator in the mayor's office.
"We hope the memorandum will be in the mayor's hands today and we expect a response in seven days," said Tlhabanelo Diholo after reading the memorandum.
He threatened they would occupy the vacant land without permission if their demands are not addressed.
A statement by the City said, "The City this afternoon took receipt of a memorandum from the Dunoon backyarders who participated in the EFF march. We are studying their memorandum, save to say that there is due processes to be followed when it comes to the disposal of assets, such as land."
The protesters used four MyCiTi buses to take them back to Dunoon. The City was unimpressed. In a statement, Councillor Brett Herron said, "EFF protesters commandeered four MyCiTi buses at the Civic Centre station." He threatened to take action against the protesters, and warned commuters to expect delays this afternoon.
Corrections: The original version of the article incorrectly stated, both in the headline and in the text itself, that the Civic Centre had been occupied by the protesters. This was in fact not the case. We deeply regret the error. Other corrections were also made to this article.