Dozens turned away as refugee office reopens after two years
Even people with valid appointments were told to return on Wednesday
3 May 2022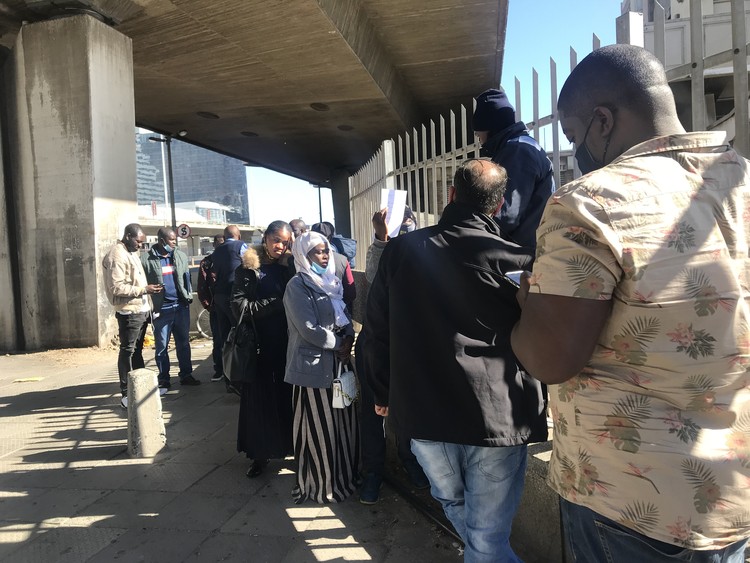 The reopening of the refugee reception offices in Cape Town and Pretoria got off to a rough start as dozens of people were turned away because the system was apparently offline.
The Department of Home Affairs' in-person services opened again after being closed for lockdown in 2020.
Since the closure, there has been no way for refugees to apply for asylum, and people who already had refugee or asylum-seeker status have been unable to renew or replace their permits and papers.
In Cape Town even those who had appointments on Tuesday were told to return on Wednesday, while in Pretoria first-time applicants were told to apply online.
The long-awaited re-opening of for the Department of Home Affairs' (DHA) Foreshore office in Cape Town was a disappointment for dozens of refugees and asylum seekers who were turned away on Tuesday because the system was offline.
The offices were opened again for in-person services after being closed for two years during the Covid pandemic.
Last week GroundUp reported that since 26 March 2020, there has been no way for refugees to apply for asylum, and people who already had refugee or asylum-seeker status have been unable to renew or replace their permits and papers. The "family joining" process – granting refugee status or a similar secure status to family members accompanying a recognised refugee – also stopped.
Consequently, refugees have struggled to access basic services, enrol their children in schools, open bank accounts or legalise their presence in the country.
When GroundUp visited the Foreshore offices on Tuesday morning, there were about 30 people queuing outside. A few were called inside to collect their documents but at 10am, the rest of those in line were instructed to return at 7am on Wednesday when the system is expected to be back online.
Boutros, an asylum seeker from Congo who did not want to give his full name, was visibly disappointed. He explained that his documents expired during lockdown and despite making five attempts to renew it online, he is yet to get any feedback from Home Affairs.
"We are suffering. The bank closed my account and the online renewal system doesn't work. You have to spend your money for transport to come here, only to be told to go back again," he said. "When we come to the offices, we are treated like animals. Today they open for the first time and at 10am they are already telling us the system is offline. I have been in South Africa for 15 years, these officials are still the same and never change their attitudes."
Another refugee from Cameroon said he has been trying to apply for asylum since 2018. He showed us papers he had been given since 2020 with five different appointment dates at the office in Port Elizabeth. He also had a letter from the UCT Refugee Rights Clinic dated 2018 as proof to police and other government institutions that he is in the process of trying to legalise himself by travelling to PE.
Placidia, a refugee from Rwanda who also did not want to give her full name, also had the UCT letter. She was among those who had made an appointment for Tuesday but were turned away. She had taken a day off from the supermarket where she works and said she would have to ask for time off again next week to come back.
Placidia said she and her husband came to SA in 1997, but her husband had been in and out of psychiatric hospitals since 1998. Their refugee status expired in 2019 but due to Covid and her husband's hospitalisations, they could not renew their documents.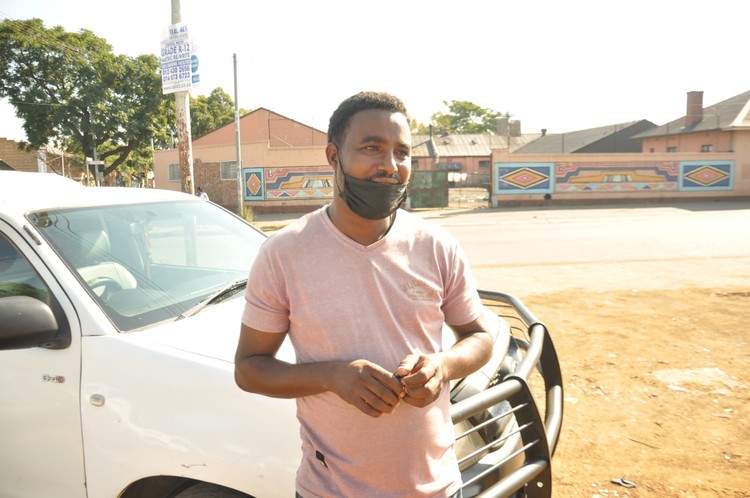 In Pretoria, many refugees submitting their applications for the first time were also turned back at the gates of the Desmond Tutu Refugee Centre. Only people whose documents expired during lockdown were assisted on Tuesday.
New applicants and those with permits which expired long before the lockdown were told to use the online system to send their documents and make bookings.
"Nothing has changed, they are still referring us back to the same online system that failed us during lockdown," said Patrick Senga from the DRC. Senga, who lives in Pretoria, said he has been trying to renew his permit since before the lockdown.
Jeff Mukoko, also from the DRC, said he was asked to bring a section23 visa from the Beightbridge entry point to complete his application. "How can they ask people who have been here for five years or three years for a paper from the border? Maybe they want us there to get deported," he said.
Nager Christo, an Ethiopian national from Soshanguve, accompanied his partner to help her apply for asylum. Christo managed to renew his asylum documents online, but says he knows of many people who had lost money to agents.
On Thursday GroundUp sent detailed questions to the DHA about the opening of in-person services and online renewal challenges. The questions were sent again on Tuesday. We are yet to get a response.