Disgruntled asylum seekers protest at Maitland Home Affairs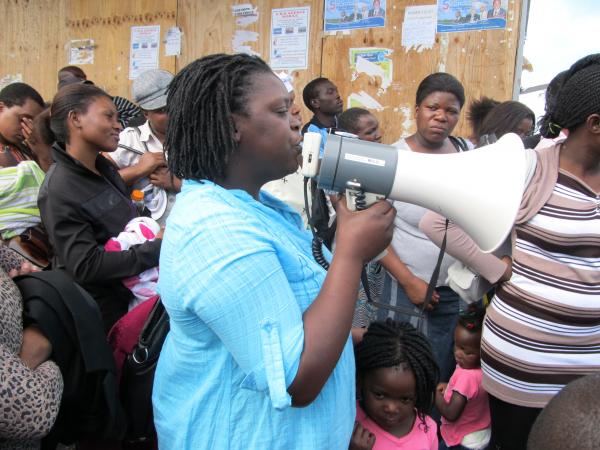 17 April 2012
Hundreds of disgruntled asylum seekers, who have been turned away for several months without assistance, demonstrated on Friday at the Maitland Home Affairs premises.
On Friday, GroundUp journalists witnessed the bureau's officials select 50 men and 50 women to be served from approximately 500 people. The remaining people were turned away. It is because of this ongoing problem that People Against Suffering, Oppression and Poverty (PASSOP) organised a protest outside Home Affairs on Friday mid-morning.
People who joined the protest told GroundUp reporters that some of them had slept there while some arrived as early as three clock in the morning to beat the long queue. They became frustrated when the bureau's security guards allegedly shoved them outside and said, "Your heads are like Tsvangirai. Go back to Zimbabwe and farm nuts."
One of the reporters, Tariro Washinyira, was also intimidated by the security guards who demanded that she should tear up everything she had written while she was inside or else they would confiscate her notebook and phone.
A protester from Bangladesh said, "Today I am not going anywhere without the document. I have been sleeping here for two weeks and a Nigerian friend of mine passed away while he was sleeping here from the shoving and cold."
A protester using a megaphone addressed and knelt before Maitland Home affairs Head, Santos Mohapelo, pleading with him to help her as she needed identity documents to enroll her children into school. The demonstrators also asked Mophapelo to explain how they were to access health-care, employment and be protected from arrest if their papers were not processed.
PASSOP Director, Braam Hanekom, said, "The demonstrators were not militant enough and they should fight for their rights. I challenge Santos to honour his promise that these asylum seekers are going to be served today because he has lied in the past." Santos appeared overwhelmed and did not want to speak to GroundUp during the protest. His mobile kept ringing without answer after the protest.