Disabled people moved because of Covid are living in filthy conditions
One man in Gqberha had to build his own ramp into his house
13 October 2022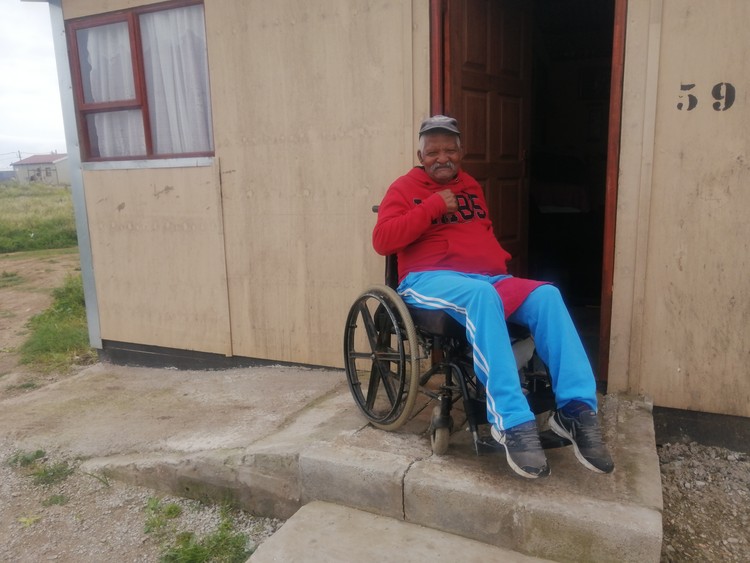 Wheelchair user Gerald Whiteboy was moved to a bungalow with no ramp, no toilet, no running water and no electricity by the Nelson Mandela Bay municipality last year.
He was one of 18 disabled people moved from informal settlements or backyard shacks to protect them from Covid.
The community of 150 families shares five filthy chemical toilets and one stand pipe.
The municipality says the people there will be prioritised for housing but cannot say when.
Eighteen disabled people were among families moved to bungalows in Rolihlahla in Gqeberha. They have no electricity, useable toilets, or easy access to drinking water - and the Nelson Mandela Bay Municipality can't explain why disabled people were moved to a place with no services.
The municipality says the families were moved to these temporary shelters to protect them from Covid in October last year. They used to live in informal settlements or backyard shacks. The municipality says they will be prioritised for proper housing.
But in the meantime they live in filthy conditions. When GroundUp visited, the smell of excrement and urine filled the air. The adults relieve themselves in buckets which are emptied behind their bungalows. The children use the open fields. Used nappies and uncollected rubbish are scattered all over the place. The whole community of 150 families shares five filthy chemical toilets and one stand pipe, which is about 200 to 300 metres from many of the bungalows.
They say these conditions are far worse than conditions in the places they were moved from.
Gerald Whiteboy, 66, was sitting in his wheelchair in the sun.
"When I was relocated here I was promised electricity, water and a toilet. But now I have to hire people to collect water for me for R20. Sometimes they just help me for free because they could see that I am trapped in this bungalow."
"I can't use the chemical toilet. I pee and poo in the bucket and throw it into this overflowing chemical toilet."
He said he had not even been able to get in and out of his bungalow until friends built him a ramp. "I bought the cement myself," he said.
"Sitting in the sun every day has become my daily life because I have been cut off from the world. Living without electricity is very difficult because I can't even watch TV."
He survives on a disability grant and a litre of paraffin costs him R25.
His neighbour, Julius Tamba, whose leg has been amputated, struggles to get in and out of his bungalow. "I have to crawl like a baby if I want to go outside. And living without electricity is very difficult and expensive. I depend on my girlfriend's piece jobs because I'm still waiting for my disability grant to be approved."
Thumeka Lose blames the municipality for the death of her mentally disabled son Sandisile, 21, during the Easter weekend. He died in a fire caused by a paraffin lamp. "Even our ward councillor doesn't care about our living conditions," she said.
"This was never meant to be a permanent housing project," said ward councillor Teslin Booysen (DA). He said it was part of a provincial Department of Human Settlements plan to move people out of crowded areas to slow the spread of Covid.
He said an electrification project was to start at the end of the month. "Two more stand pipes will be added but firstly a tender must be advertised. As for the toilets, we are waiting for a renewal of the chemical toilets contract to be in place," Booysen said.
Municipal spokesperson Mamela Ndamase could not say why disabled people had been moved to a place without essential services.
"When the pandemic hit us, they were prioritised from the disadvantaged and risky informal settlements they stayed in." She said the disabled people were not there "on a permanent basis" but would be prioritised for housing "when a new development is underway for the benefit of that community specifically". She did not say when that would be.