Deny bail to dangerous criminals, say Despatch protesters
Residents protest outside court after tavern killing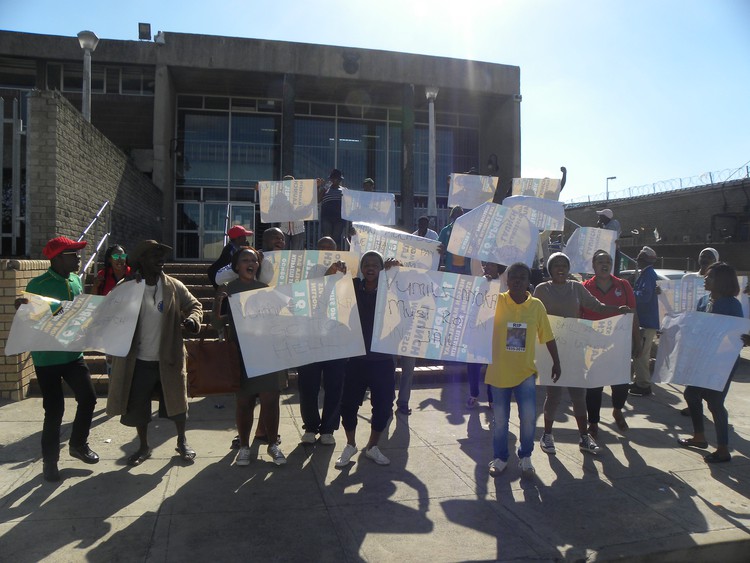 27 September 2018
About 30 residents of Despatch in the Eastern Cape protested on 26 September outside the Uitenhage Magistrates Court, demanding action against what they say is an increase in armed robberies and murders in their area.
The residents, all of them from Khayamnandi township, protested outside the court where a man was appearing, accused of killing a patron on Sunday night at a local tavern. The criminals then robbed the tavern of money and beer. The money and beer and a gun thought to have been used in the crime were recovered by police after the suspect was cornered by residents and the police.
Three other suspects are still at large.
The protesters said they wanted the courts to deny bail to dangerous criminals.
One of the protesters, Nombuzo Booysen, said there had been several cases of armed robbery at the tavern. "Most of these criminals are people who come and spend time in the area either drinking in taverns or driving around. They then rob businesses and individuals."
She said the community wanted police to increase visible patrols in the area.
Another resident, Zolani Khohlakala, said, "I was terrified when I heard gun shots and came out of the house to investigate, only to stumble on the gun lying close to my toilet. It was a very dangerous situation because the police were busy chasing the armed gang. There was shooting all over."
"We need to do something quickly to maintain peace and safety in our community. Our streets used to be very vibrant, but people now stay indoors fearing to venture outside," he said.
ANC branch secretary for ward 41 Thobekile Lawu said there had also been an upsurge in stock theft. "The criminals are terrorising isolated communities that rear cattle and goats. We have received numerous reports where livestock have been shot and the carcass loaded onto vehicles," Lawu said.
He said residents were not cooperating with the Community Policing Forum desk at Despatch Police Station because there were no stipends. Thobekile said, "Residents are reluctant to get involved saying the project has no incentives. Many residents are not working and spend their time doing piece jobs to earn a living."
He said richer parts of Despatch had security companies patrolling the street. "I suspect that criminals are running away from these areas and are now targeting townships where security is very lax."
Police spokesperson Captain Gerda Swart confirmed that the search for three other men was continuing.