Court gives Steenvilla residents another chance
Evictees given additional time to apply for leave to appeal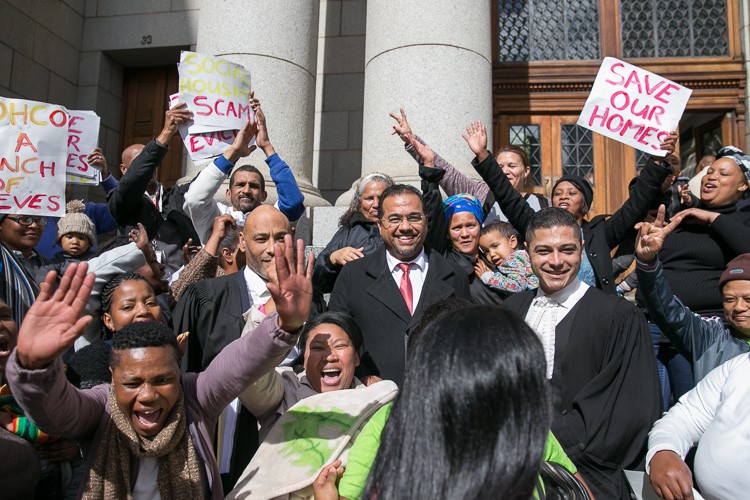 30 August 2017
On Wednesday the Western Cape High Court ruled that residents of the Steenvilla housing complex in Steenberg can apply for leave to appeal against their attempted eviction by non-profit company Sohco Property Investments. This comes after the residents missed the previous deadline to file such an application.
According to the residents' papers, they were late applying for leave to appeal because of the "gross negligence of their erstwhile [former] attorney of record". The court therefore condoned (forgave) the delay. The residents' attorneys are now permitted to file leave to appeal the eviction. 
Steenvilla is a 700 unit complex, and one of the largest social housing developments in Cape Town. On 14 August three families out of 22 facing eviction were evicted. At the time Heather Maxwell, CEO of Sohco, wrote in a press statement: "During March 2016 a small group of tenants stopped paying rent. After attempts to resolve the situation were unsuccessful, Sohco initiated eviction proceedings in court during 2016, with eviction orders eventually being granted in March and May 2017."
There were celebrations by dozens of Steenvilla residents and their supporters outside court. For 19 of the 22 families involved in the case, the ruling means that they will not be evicted from their homes at least until a decision on the appeal is made (some of the 19 have however moved out of Steenvilla).
Tina Schoor, spokesperson of the residents facing eviction, said that the three families that have been evicted will be immediately returned to their homes after Wednesday's ruling. Residents gathered on the steps of the High Court to celebrate the ruling, where Schoor stated: "We believe we have a right to our homes… This is the start of our victory."
However Maxwell told GroundUp that it is not true that the evicted residents can return. This "was not raised in the court papers for consideration," she said. 
Schoor and other protesters were wearing T-shirts of the Patriotic Alliance, a political party started by convicted bank robber Gayton McKenzie and others (including convicted fraudster Kenny Kunene). Die Son (29 July) quotes Mckenzie saying that he will cover R100,000 of the evictees' fees. The article also quotes Schoor saying that Mckenzie is the only person who will help the residents in their darkest hour. The article also implies that Rafeek Hendricks, the lawyer representing the residents, was hired by Mckenzie.  
Maxwell stated on 14 August that the financial sustainability of social housing programmes depends on rentals being paid. "The security of tenure of paying tenants is placed at risk by households who do not pay rent. A number of the tenants currently up for eviction are in a financial position where they are able to pay rent and are choosing not to."
CORRECTIONS: There were errors in the original version of this article. We have substantially rewritten it.