Court frees man convicted of murder because of incomplete trial record
Judgment will put pressure on lower courts to get their record-keeping right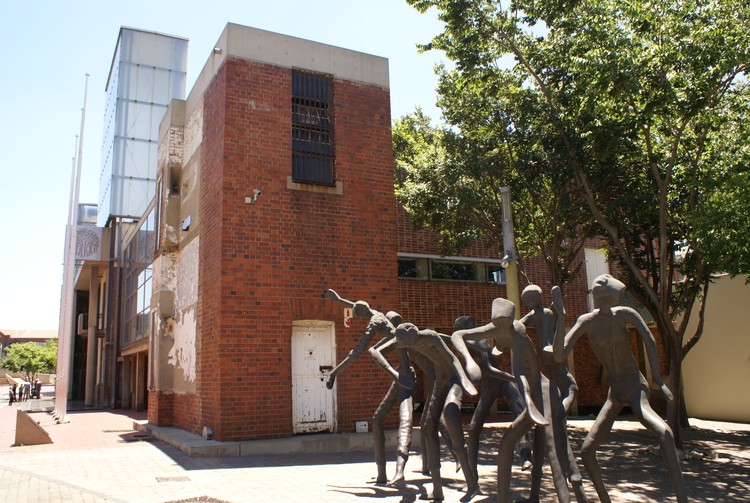 15 December 2017
The Constitutional Court handed down a judgment on 5 December that invalidated a man's murder conviction because the state could not provide a complete record of the trial proceedings during the appeal.
The judgment will not result in hundreds of convictions being overturned due to administrative failings. Each appeal will be judged in light of the specific case, but the case does present a very real possibility of invalidating convictions where transcripts are missing.
In October 2009, Klaas Lesetja Phakane was convicted for the murder of his girlfriend Matilda Chuene Boshomane. The state's main witness during the trial was Martha Manamela, who, when Boshomane died, was also Phakane's girlfriend. Manamela gave both a statement to the police and testified during the trial. Unfortunately, her testimony in each instance was different in substantial ways – including inconsistencies in both the dates, locations and what Phakane told her.
However, the essence of her testimony was that Phakane told Manamela that he had assaulted Boshomane and left her in the veld. Boshomane also testified about a conversation where Phakane discussed where and how he should dispose of Boshomane's body. Also, witnesses for the state – including Manamela – testified that Phakane used to assault and abuse Boshomane. During the trial, Phakane was charged with both the murder and assault of Boshamane.
In the trial court, Judge Seriti accepted various parts of Manamela's testimony. Although there was only circumstantial evidence that Phakane had murdered Boshomane – Justice Raymond Zondo in the Constitutional Court noted that the police investigation appeared to have not been conducted properly – Seriti found sufficient evidence to convict Phakane of the murder. Seriti also imposed a sentence of 20 years – longer than the prescribed minimum sentence. Seriti acquitted Phakane of the assault charge.
In 2013, Phakane appealed his conviction to a full bench of the High Court. During this appeal, the state provided an incomplete record that was missing both Phakane and Manamela's statements to the police. Also, the entirety of Manamela's oral testimony was missing from the transcripts. Though there were attempts to reconstruct the record, these were unsuccessful.
The Court decided that, despite the missing evidence, it was still possible to decide the case fairly. This decision was based partly on the fact that Seriti quoted the entirety of Manamela's statement in his decision and partly because the Court felt that Seriti's decision was not based solely on Manamela's testimony. The Court then upheld Phakane's conviction but reduced his sentence to the 15-year minimum.
Phakane appealed once again, arguing that his constitutional right to a fair appeal had been infringed because the state had not been able to provide a complete record. The Constitutional Court then had to decide if it was possible to determine this appeal without a complete record and, if not, what ought to happen to Phakane's conviction.
The now-Deputy Chief Justice Zondo, who wrote the majority judgment, found it "remarkable" that the trial court had not mentioned the inconsistencies in Manamela's testimony. Zondo felt that Manamela may have been dishonest, either in her statement to the police or in her testimony at the trial court. However, it was also possible that there was an explanation for her conflicting testimony.
The key issue was that because the transcripts were missing, it was impossible to know whether Manamela provided a sufficient explanation. As a result, Zondo found that it would have not been possible for the Appeal Court to fairly and properly consider Phakane's appeal and this amounted to an infringement of his right to a fair appeal. This meant that Phakane's trial – and resulting conviction – were all invalidated. However, Zondo explicitly left the door open for Phakane to be retried and stated that the National Prosecuting Authority (NPA) should consider whether to recharge him.
Zondo also stressed that there was not a one-size-fits-all approach to dealing with missing or incomplete records. He quoted a previous decision of the Supreme Court of Appeal which stated "[T]he requirement is that the record must be adequate for proper consideration of the appeal; not that it must be a perfect recordal of everything that was said at the trial." As a result, records do not need to be perfect for appeal but merely adequate. In each case the court will need to assess whether the record provided was sufficient for a proper consideration of the appeal. If the record is insufficient then a court may find that the right to a fair appeal has been infringed.
Justice Johan Froneman wrote a concurring judgment which consisted of only three paragraphs. He agreed with Zondo that a retrial was possible but felt that the court should take a step further. Froneman stated that he would have ordered that the case be referred to the High Court to investigate whether Phakane could be prosecuted once more rather than leaving it entirely to the discretion of the NPA.
Justice Edwin Cameron also wrote a concurring judgment that agreed with Zondo's findings that Phakane's right to a fair trial had been infringed and that his conviction for murder should be set aside. However, Cameron's judgment argued that Phakane should still be convicted of assault because there was enough evidence from other witnesses, not just Manamela to support an assault conviction. The conviction of assault would actually be what is known as a "competent verdict" for the murder charge that is separate from the assault charges Phakane faced in the trial court. If Phakane had been found guilty of assault as a competent verdict, the state would not be able to retry him for murder.
Noting this, Cameron felt that a conviction for a lower offence would be better than attempting to retry Phakane given that he had already spent eight years in prison and some witnesses may no longer be available. Cameron viewed this conviction for assault as a "small justice" after Phakane's conviction was set aside. While Zondo had considered a competent verdict, his decision was that it was not a competent verdict because the cause of Boshane's death was unknown and it was unclear whether it was Phakane's assault that resulted in her death.
This case highlights a continued administrative failure of the court system. Earlier this year, GroundUp reported on an inmate whose appeal process had been delayed due to an inability to obtain transcripts of his trial. That report highlighted a number of cases where records of appeal were incomplete or missing The Phakane case is the second Constitutional Court decision concerning incomplete trial records in 12 months. Worse is the reality that these cases represent the privileged few who were able to file cases and have them heard. A majority of criminal cases are heard in the far busier, more poorly resourced Magistrates' Courts rather than in High Courts and so missing records are all the more frequent.
In the five months that I practiced as a public defender in a District Magistrates' Court, I personally observed two instances where recording machinery and microphones were discovered to not be working. I also witnessed one instance where portions of a witnesses' testimony were inexplicably missing from the recordings of proceedings. We came across these when we attempted to review testimony from previous hearings.
Commonly magistrates elect to either record matters in writing or mechanically through machinery. This means that the written or recorded proceedings were sometimes the only way proceedings were captured, making reconstruction of the records all the more difficult. The Phakane decision is not ground-breaking for all of these cases but it does recognise that, in certain circumstances, an administrative failure can lead to a gross maladministration of justice. In a country with a very high rate of violent crime, the ruling will also cause anxiety, but hopefully push lower courts to keep better trial records.