Community protest at court to demand release of local "crime fighters"
At least 16 people linked to a crime-fighting group face charges of assaulting suspected criminals in Butterworth
28 March 2023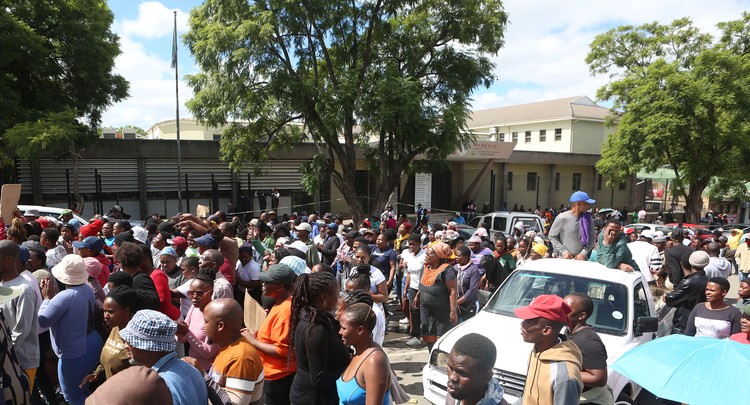 Protesters from Umsobomvu township brought the centre of Butterworth, Eastern Cape, to a standstill on Monday. They marched to the Butterworth Magistrates Court, demanding that members of the Umsobomvu Community Forum be released from police custody.
Residents say the Forum was established in July 2022 to tackle a spike in crime including house break-ins and muggings. They conducted regular patrols at crime hotspots, particularly at night. Protesters told GroundUp that instead of supporting the Forum's efforts, the local police had begun targeting members and accusing them of committing crimes.
According to residents, 16 people linked to the Forum were arrested between Monday and Friday last week. They face charges of assault and malicious damage to property. They made a brief appearance on Monday and were released on warnings.
"The police always tell us there's a shortage of police vans, and that they will come once there's an available van but that never happens," said Thandekile Zembe, a member of the Umsobomvu Community Forum.
He said that when the Forum catches people accused of committing crime in Umsobomvu, police don't come. But when a member of the community "takes the law into their own hands", police come swiftly and raid the homes of Forum members, he said.
"I have been arrested for five different matters related to illegal patrols and assault because I confronted some drug dealers," said Zembe.
Community member No-Andile Fabela, told GroundUp that many in the community had welcomed the Forum's efforts to restore calm in the community. Fabela, who lives with her 15-year-old granddaughter, has been the victim of crime recently. "My granddaughter was also robbed of her cellphone. Things are much better since the Forum started," said Fabela.
Eastern Cape Police spokesperson Brigadier Thembinkosi Kinana denied allegations made by the residents and Forum members against the police.
"We have no relations with criminals, including so-called drug dealers. If anyone has evidence, they must bring it so that we can act on it.
"We also cannot work with people who take the law into their own hands. If community members are serious about fighting crime, they must team up with the Community Policing Forums and learn proper procedures of dealing with crime," said Kinana.
The 16 accused are due back in court on 28 April.