City to report to court on future of Woodstock residents
People facing eviction say they will reject any proposal that moves them out the area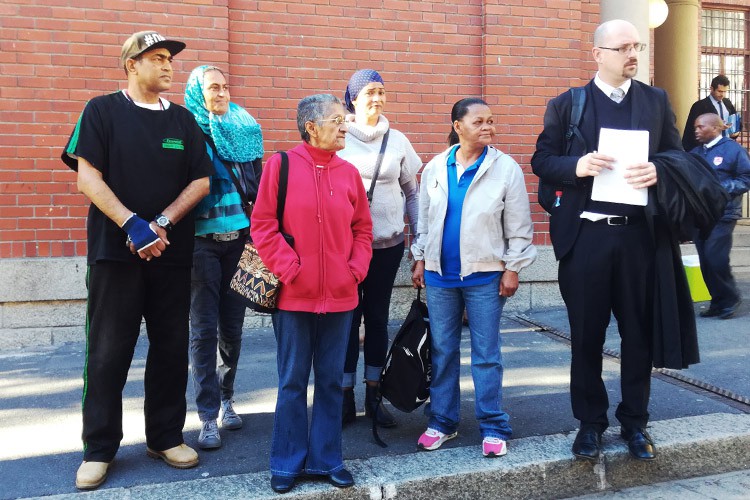 3 August 2017
The City of Cape Town has committed to submitting a report to the Cape Town Magistrates' Court by 1 September on alternative accommodation for a group a families facing eviction in Woodstock.
The Albert Road residents, who are opposing their eviction, made a brief appearance in court on Thursday. The matter was postponed until 4 September.
Mark Owen, the lawyer for the residents, had, during a court appearance last month, asked the court to grant an order instructing the City to submit the report.
The residents were served with eviction notices in March and April to vacate their homes for not paying rent. They say they stopped paying rent after their water was cut more than a year ago due to non-payment. The landlord's lawyer, Ahmed Ebrahim, has disputed their version.
After court, Maxine Bezuidenhout, a Reclaim the City supporter, said that the City requested that the residents provide the City with copies of their IDs, proof of income and birth certificates by 11 August.
Desiree Faghmeeda Ling, one of the Albert Road residents facing eviction, said the City would have to meet with residents after 4 September to give them more information about the proposed alternative accommodation. Residents have previously said they would reject the City's offer if they were told to move out of Woodstock.
On 18 July, Mayoral Committee Member for Urban Development, Brett Herron announced that the City would dedicate ten properties in the inner city, including Salt River and Woodstock, to social housing. Herron described this as the City's "180-degree change in its approach towards the urgent demand for housing".
In a statement, Reclaim The City welcomed Herron's announcement, but rejected the notion of Wolwerivier transitional housing saying: "We are clear in saying 'We won't go!' Nobody is moving from their homes to camps like Wolwerivier. We will resist to stay in our homes until we see bricks, front doors and keys!"