"The City needs to stop destroying shacks, at least until the lockdown is over"
City of Cape Town demolishes shacks built by people evicted by their landlords in Strand
18 May 2020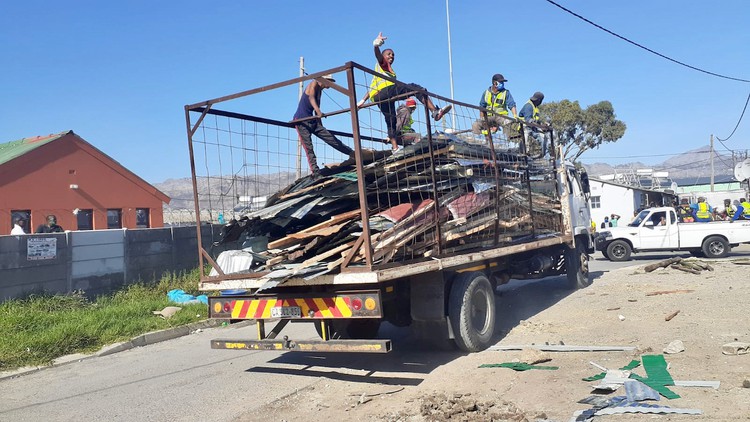 "We don't have money to pay rent and our landlords want their money. We didn't have a choice but to build our homes here," said Nolulamo Khethani.
Her shack was among those demolished by the City of Cape Town Anti-Land Invasion Unit on the weekend in Greenfield, Strand.
"We built our shacks on Friday and Saturday, and we never thought that our shacks could be removed especially on the weekend," said Khethani.
"Our [building] material was taken away … We don't have money to buy another material", she said.
"I was doing other people's laundry and selling chicken feet, but I cannot do that anymore [since the Covid-19 lockdown], that's why I struggled to pay the rent," she said.
She had been renting a shack for R500 a month.
Buyiswa Mniki from Greenfields said, "I had five tenants each paying R1,500 per month … I am a single parent depending on the rent money. How am I supposed to get money to buy electricity and pay for water if they are going to stay free?" asked Mniki.
She said the City should not have demolished the shacks. "They know that people cannot do anything because of the lockdown. They should've let them stay until the lockdown. I feel for them, but there is nothing that we can do," said Mniki.
Sibusiso Malindi, who als lost his shack in the demolitions, said he used to collect scrap and do gardening jobs to earn the money for his rent. "Everyone is at home. People are doing their gardens; they don't need our help anymore," said Malindi.
"The City needs to stop destroying shacks, at least until the lockdown is over, because we have nowhere to go," said Malindi. "Beside owing money for the material we still need to hire transport to go and fetch our material [from the City], and when they remove it, they make sure that they destroy it. This is painful and no one cares about us."
Ward 86 Councillor Jongidumo Maxheke (ANC) said, "I feel for them, but unfortunately I can't give permission for them to use the community hall, because there are about five families that are staying there [already]."
GroundUp is awaiting a response from the City of Cape Town. The City has previously condemned land occupations, including those during the lockdown.