Chief Justice candidates: Zondo asserts his authority, independence and impartiality
Justice Zondo said he knew he would make enemies when he agreed to chair the commission into state capture
4 February 2022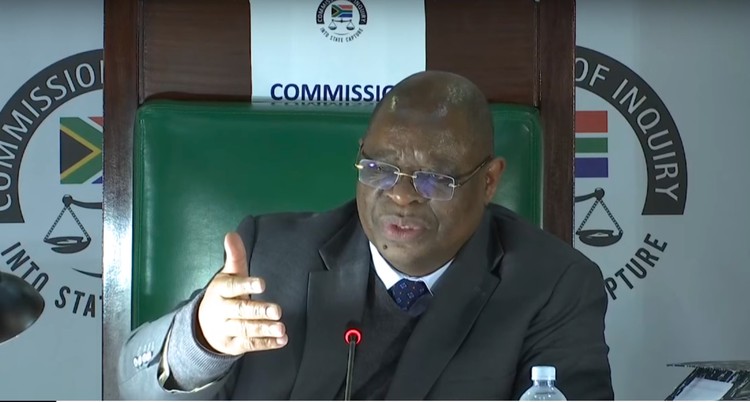 Acting Chief Justice Raymond Zondo told the Judicial Services Commission that he did not think he was entitled to the job of chief justice, just because he has been Deputy Chief Justice and Acting Chief Justice.
"I do not think I am better than the other candidates. I am here because the head of State considered that I should be … because it seems he would like to have a choice. And if I am appointed, I would not see myself as some super judge. I would see myself as a servant to the people of South Africa," he said.
Justice Zondo, who chaired the Commission of Inquiry into State Capture, was first appointed as a judge in 1997 in the Labour Court. He was appointed to the Constitutional Court in 2012 and became Deputy Judge President in 2017. He is 62 and, if Cyril Ramaphosa appoints him, he will only serve for two and a half years.
Among the issues he said he would tackle during his tenure would be to ensure the Office of the Chief Justice (OCJ) achieved complete independence.
He said former President Jacob Zuma should be applauded for enabling the setting up of the OCJ as a national department, but phases two and three, including the establishment of a "judicial council" had been stalled because the executive had failed to respond to a proposal for far more independence.
"I hope the current president will be amenable to say where the executive stands on this," he said.
Another issue he would take on would be the challenges of many courts relating to conditions of buildings, where such infrastructure as air-conditioners, lifts and recording machines are no longer working.
He said some magistrates courts had no on-site parking, and magistrates had to vie for spaces on roads with people standing trial before them.
He said there were already provincial and national efficiency and enhancement committees that were representative of all stakeholders, including the police, correctional services and the National Prosecuting Authority, dealing with these issues. But in the Free State, the Department of Public Works had stopped sending a representative.
On the delays in delivering judgments at the Constitutional Court, he said a new system had been put in place to deal with applications for leave to appeal and direct access to the court, and judges were no longer overburdened by this.
At present all 11 judges of court were expected to take part in decision-making on each and every matter which "sometimes takes a long time". He proposed there be a discussion about possibly excusing some judges who were behind on writing judgments from sitting on new cases, subject to the required minimum quorum of eight judges.
He also mooted the possibility of a Constitutional amendment to reduce the quorum, allowing fewer judges, as little as three, to hear certain matters.
On the issue of transformation, he said while there had been great strides in terms of race "more needs to be done about gender".
Threats made against Zondo
During question time, he said there had been all kinds of threats against him and his family and he had chosen not to disclose his address on his application form for the Chief Justice job.
Regarding objections to his possible appointment on the grounds that he was "biased" towards President Ramaphosa, he said those who made such accusations had presented no facts to support this "perception".
"I am not pro- or anti-anybody … when I made a decision that he [Ramaphosa] would have to appear before the Commission because he was part of the executive during the time when state capture happened, he agreed. He did not give me any problems," he said.
He said he still had to make findings in relation to Ramaphosa's testimony and if there was enough evidence to justify a finding against him, he would make one. He denied suggestions that he had held back on this in order not to "blemish" his possible appointment.
Justice Zondo said he had made "many enemies" but he knew that it would happen when he accepted the appointment as state capture commission chair.
On other issues, he conceded that he was not "very good with IT" but said he wholeheartedly supported the modernisation of the courts which was in the capable hands of a committee under the leadership of Judge President Dunstan Mlambo.
Justice Zondo said he believed he could achieve his goals in the two-and-half years left to him. "We had a Chief Justice for ten years and it worked well … But you don't know … two and a half years might not be a bad thing."