Siphiwe Ngwenya, founder of the Maboneng Township Art Experience, has set out to change the standard way tours to the townships of Cape Town are run. Maboneng, which means 'place of light' in seSotho, runs annual festivals in townships as a means to generate income for locals.
Township tours have often followed the same approach: tour operators bussing in visitors to stop at local craft shops or to experience a braai at a popular tavern. But when tour companies change the focus of their visits to another area, township residents and craft shops sit without income.
Ngwenya, working alongside residents in three townships, has turned their homes into the Township Art Galleries (TAG) project.
Ngwenya is from Alexandra township in Johannesburg and has lived in Cape Town for the last five years.
One of his TAG initiatives is located in Rubusana Avenue in Langa township and encompasses ten brightly painted homes.
He says TAG is about placing ownership of a tourism product in the hands of township residents.
"Ten homes are turned into galleries, showing different artist's work. These are township artists. Anyone can then visit the galleries on a tour that costs R100 per person. Visitors can also buy local art," explains Ngwenya.
He adds: "Art can create eco-systems if it is people-centred. We are trying to create structures that are sustainable. We don't want a state of apathy. We don't want to create poverty tourism. People must be able to help themselves.
"Families who are involved know they need to create curiosity around their neighbourhood and not just get tourists. It's also about making new audiences out of local residents. They are art distributors and owners."
A walk through the ten homes in Rubusana Avenue reveals humble surroundings and families passionate about their project.
Nomonde Msizi lives with two children, her brother and his child. In their lounge they exhibit paintings by Velile Soha from Langa. Music instruments are also stored in the lounge. Her nephew "plays marimba in Langa at restaurants on weekends or when he's free".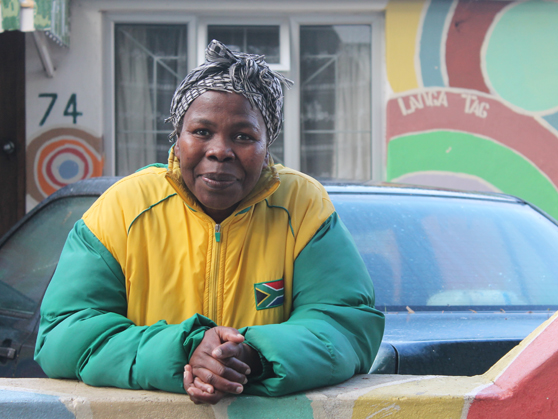 Nomonde Msizi. Photo by Yazeed Kamaldien.
"I'm unemployed," says Msizi. "I liked when they told us how TAG works and would uplift the community. Since last October, we have been involved. People are coming, but it's not booming yet. We can see that if more people knew about it then we could make something."
Msizi says she "shows tourists around the gallery".
"I even show them my brother's record collection because he likes to party. Many tourists from all over have come to my house," she says.
"It was tough in the beginning because I was not used to this. But as more people started coming, I was able to express myself and tell them our history."
Ngwenya worked with residents to create a community landmark. Participating homes had their walls painted with bright patterns to guide tourists along a route. Signage has also been painted at the entrance of the street.
Msizi says they also needed to learn a bit more about tourism on the job.
"We painted our houses so that when people walk down the street they can see it's an art gallery. Tourism does take a lot of time. We open at 9am and close by 4:30pm. We must be ready to receive tourists any time or day," she says.
Nosiviwe Taule, a neighbour and also unemployed, says they "want to grow this into a long-term business".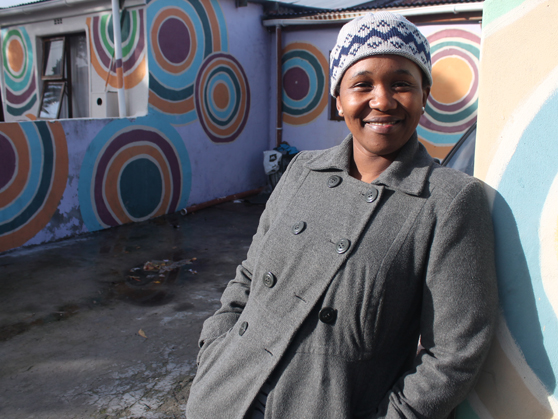 Nosiviwe Taule. Photo by Yazeed Kamaldien.
"I never thought I would be involved in something related to art. I worked in a call centre, but I am not working there anymore. This is very positive for us because we need work. The more people who come in, the more business we do," says Taule.
"It's not a hassle to have my house as a gallery. It's nice having these paintings on my wall. There has been an income every month, even if we can only buy bread for our kids. Where else would we get that money?"
Xhanti Ndabula, 15, a high school learner says his family is "happy to be involved in this project".
"We meet tourists from overseas and we are building relationships with lots of people. I'm also becoming more interested in art. I am learning how to understand art," he says.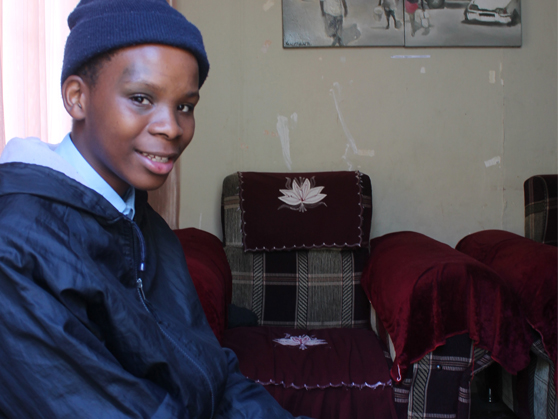 Xhanti Ndabula. Photo by Yazeed Kamaldien.
"With this project, we are finding out more about artists in the township. There are more artists that we don't know."
Ndabula said they make tourists feel comfortable on their tours.
"We also offer them something to eat, like beans or an African salad, or drink to make it more interesting. We tell them about the history of Langa township," he says.
For more information about Township Art Galleries contact Siphiwe Ngwenya on 073 777 8937.