Cape Town rapper Jitsvinger to tour Netherlands
South African Road Trip: Celebrating Life uses music, dance, poetry and video to show the diversity of life in the Cape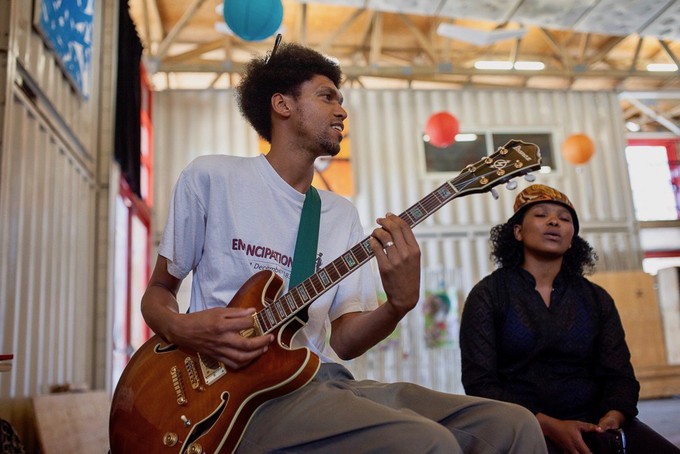 10 February 2017
"Goema meets maskandi meets mbaqanga" is how Cape Town hip hop artist Jitsvinger describes a new production featuring his work.
On Friday, Quintin Goliath aka Jitsvinger heads to the Netherlands to perform with the Khayelitsha Mambazo United Choir and musicians Nomapastile Nyiki and Lungiswa Plaatjies in a unique new show titled South African Road Trip: Celebrating Life. The tour, put together by theatre producer Inge Bos, will run from 2 March to 30 April in various cities.
Jitsvinger, known for his Cape Afrikaans rap, will incorporate his unique sound with a ten-voice, Zulu male choir singing isicathamiya.
"I've never done a collaboration like this before. It's a musical experience, while at the same time educating an international audience about life in South Africa," said Jitsvinger. "I play guitar and rap, adding my own flavour to their songs."
The show uses music, dance, poetry and video and shows the diverse cultures and history of groups living along the route from the Eastern to the Western Cape.
"There is still a negative attitude towards hip hop, especially in our mainstream theatres. I've yet to see a hip hop production running at the Fugard Theatre. The current generation of European audiences has had enough of racism and classism. This creates a more accepting space in their theatres," he said.
Jitsvinger, who grew up on the Cape Flats, said he began performing and rapping for his peers in primary school.
"I was born into a musical family and was formally trained in piano at the age of eight. I've always enjoyed performing at school talent shows. I would describe my [current] work as homegrown and witty," he said.
Most of Jitsvinger's songs touch on issues related to Coloured identity and language. But in 2011, he was approached by activist organisation Treasure Karoo Action Group for a music video titled Frackattack!, a petition against oil companies intending to drill for shale gas in the Karoo.
"I felt it was important for me to throw my weight behind it. Activism has always been part of my work and I want to continue doing more work like this," he said.
For live updates of the tour, visit Jitsvinger's Facebook page from 3 March.